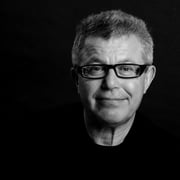 Daniel Libeskind is an American architect and urban planner, who was born in Poland in 1946, emigrated to Israel and in 1960 emigrated with his family to the United States and took the American citizenship. His best known accomplishments include the Jewish Museum Berlin / Germany, the Felix Nussbaum Haus in Osnabrück / Germany or the Denver Art Museum.
Libeskind's architecture is characterized by a narrative style. He uses elements that explicitly refer to non-architectural content and thus semantically get a different meaning. This approach also repeatedly leads to fierce controversies about his architecture.
In 1989, he founded the Studio Libeskind in Berlin, which is now located in New York City and has offices in Zurich and Milan. His major works include larger cultural institutions, such as the Jewish Museum in Berlin / Germany, the Felix Nussbaum Haus in Osnabrück / Germany , the Denver Art Museum / USA and the Imperial War Museum North in Manchester / England, but also landscape and city planning as well as designs of exhibitions, stage scenery, and installations. In the summer of 2002, he has staged the stage design for "Saint François d'Assise" by Olivier Messiaen at the Deutsche Oper in Berlin.
On the one hand Libeskind is often praised for his complex understanding of architecture, with which he opens up new expression possibilities of architecture. On the other hand, he is subject to often severe criticism. Libeskind is often called the representative of Deconstructivism, however he himself rejects this typing.
Website by Daniel Libeskind