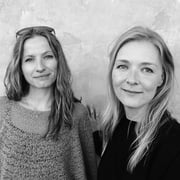 Form follows function - Design from Copenhagen
Lise Vilslev and Mathilde Møberg founded Copenhanger out of necessity in 2013. The two Danes are friends since 2000 and since that time they are also professional partners. Together, they form the design duo Copenhanger based in the Danish capital.
Mathilde Møberg studied graphic design and had gained over 15 years of experience before founding Copenhanger Lise Vilslev made her master's degree in Danish literature and psychology at the University of Copenhagen.
The idea to the hanging coat rack Copenhanger and the eponymous Design Studio was born when Lise and Mathilde once again faced a space problem which is well-known in Copenhagen. Small flats with limited space are not uncommon in Copenhagen and that's why furniture and items that take minimal space are needed. They wanted a coat rack that neither takes space on the floor nor on the wall. And Lise remembered the hanging coat rack from the 60s that hung in her grandmother's house. The designers went over the design and Copenhanger was born. The story behind the coat rack is a daily problem for which a simple solution was found. The object was built according to the motto: form follows function and is a true problem solver.
Ethical & Ecological
In addition, Lise and Mathilde put large emphasis on timelessness in the manufacture of Copenhanger. The timeless design transforms the good object in a really great one and makes the beholder wonder when and where it may have originated. Also an environmentally-friendly production is very important to them. Therefore Copenhanger consists of Danish oak. On the one hand because the oak is obviously beautiful and on the other hand it means that the wood comes from Denmark and can be processed locally in Copenhagen.
Website by Lise Vilslev & Mathilde Møberg