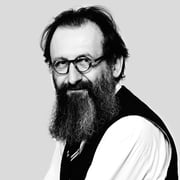 After the criticisms and the confirmations, the exaltation of design and the conclusion of Memphis, Michele De Lucchi founded Produzione Privata, taking up the urge for change that was in the air at the turn of the '90s.
Aware of the gap that had been created between design and production, he set out to rediscover the role of the architect as an intellectual who conceives and fulfils his projects with a more responsible approach to the quality and beauty of things.
What had started as a small-scale craft-oriented production of experimental projects traced by his pencil very soon proved to be an opportunity to make objects using technologies on the margins of industrial production, but treated within the logic of series.
Over the years, Produzione Privata has developed into a group of Workshops scattered across Italy, where skilled crafts are still pursued. To these, Michele De Lucchi has from time to time entrusted the realisation of drawings – in pencil, tempera and watercolour – to be found in his sketchbooks.
Each of these realities has become a focus of specific research on a material or process, associating this experimental drive with that of the historic Bauhaus workshops.
Produzione Privata does research on porcelain which when illuminated actually becomes transparent. It develops variations on Glass to make light the protagonist of space. It revives Marble, caresses Wood and moulds Metal. In its workshop it aestheticizes the technique of its Minimal Machines. And in the Ready Made workshop it reflects on the language of design itself.
Website by Michele De Lucchi