GoodWeave Seal of Approval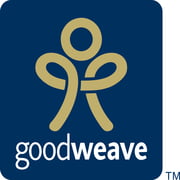 GoodWeave International (GWI) is a global non-profit organisation that was founded in 1995 on the initiative of non-governmental organisations (NGOs) and the carpet industry.
The GoodWeave seal of approval designates products made without child labour which take into account social and environmental standards. The aim of GoodWeave is to prevent exploitative child labour in the carpet industry and to promote fair wages and working conditions.
Regular inspections at the production sites in Nepal, India and Afghanistan ensure compliance with the standards established by GoodWeave. In addition, each GoodWeave seal of approval has a code specifying the origin of each rug making it traceable and thus later ensuring that the GoodWeave certified products are made under fair social and economic conditions.