Article from the 2015-07-22, of Guest author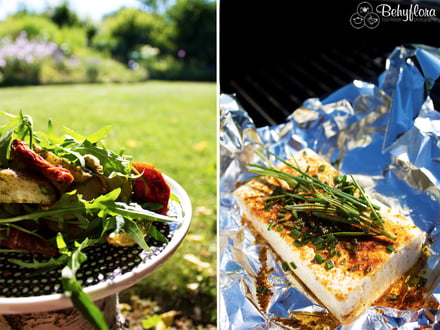 [Free translation] Summer is the time for being outside and having BBQ evenings. But many things can go wrong while grilling. For example while trying to heat the grill. There is a classic barbecuing mistake many people make when they grill for the first time. Even though people light the grill a while before they want to start frying their meal, they only use few charcoal. It's better to use the whole content of a three kilograms charcoal bag than only half of it. So in the moment I realized I needed more charcoal for a successful BBQ, my guests were already there and we all had to wait a bit longer.
A look into the face of my guests told me: Do something! Since nothing spreads more bad mood than to wait for a meal when you're hungry. I thought about my error of having admitted that barbecuing was a duty to be done by men. But only for an instance, since I have some tricks to make my guests happy and to hide my mistake.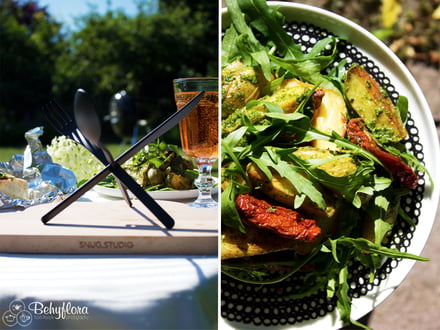 For you to save the moment when things go wrong, or if it takes a bit longer than planned, I have complied some red herrings and mood savers for your BBQ guests. By the way: My strategies are also helpful if the spare ribs of the male guests have been a bit too long on the grid and the faces of them get longer.
Red Herring No.1 – The Perfect Table Decoration for the BBQ Party
What's a great party without the right table decoration. But how would it be if you would surorise you guests a bit as well? Of course you have chosen pretty plates, glasses and napkins. The special topping for your next BBQ party though could be the salad cutlery by Konstantin Slawinski, since then you will surprise your guests. This will make your guests forget how long the preparation is taking.
Red Herring No.2 – Start the Salad Party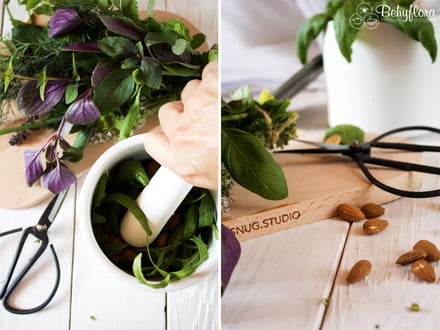 Serve some dips and salads that to sweeten the waiting time for your guests. This will also help if you decided to become a chemist and transform meat into charcoal. A special salad or dip with bread will make your guests smile again. And I am not talking about the classic potatoes or cucumber salads – since you want to impress your guests. Therefore here comes a recipe for my "baked potato salad with garden herbs pesto and rocket salad". Your guests won't have tasted anything like this, believe me!
For 4 hungry people you need:
1 kg small potatoes
150 g rocket salad
Some dry tomatoes in oil, maybe chopped a bit
1-2 table spoons self-made garden herbs pesto
green or black olives, as much as you like
salt, pepper, balsamic vinegar
olive oil
bell pepper powder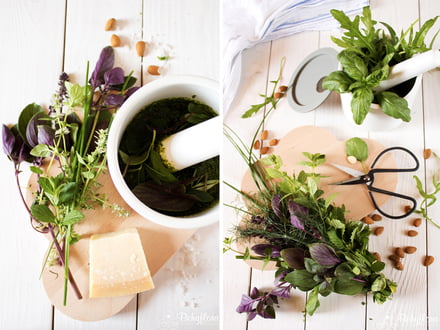 And this is how you prepare the baked potato salad: Wash the small potatoes, since the peel is part of the salad. Cut it into cubes and add it into a bowl. Use enough olive oil, a bit of salt, pepper and bell pepper powder and mix it all. Put everything in the oven for about 30-40 minutes at 180°C until the potatoes are crunchy. The rest does not take much time: Let the potatoes cool down and mix them with the other ingredients. Add as much pesto, salt, pepper and balsamic vinegar as you want and then you will have created a wonderfully exceptional salad.
Red herring No.3 – Let the Hungry People Attack Your Herbs…
…and let them take a bit of self-made herbs pesto with them as a souvenir. Since it is easy, creative, fun and surely a great red herring with great memories for the days after the party. You won't need much for it: pick up some fresh herbs, use a mortar, a bit of salt, pepper, olive oil, a bit of garlic (about one clove per glass), almonds and some glasses to fill in the pesto.
Let your guests go outside with scissors for their own mixture. But you should avoid using too much herbs like sage or rosemary, since the pesto might taste rather bitter than fresh afterwards. Violet or green basil, dill, rocket salad, wild garlic, lemon balm, mint, oregano and a bit of thyme are great herbs for a pesto. But your fantasy is able to run free when you plant your own herbs. The best of making your own garden herbs pesto? You can directly use it for the baked potato rocket salad.
Your next BBQ party will start with a lot of surprises then. Don't fear bad mood when the food preparation takes a bit longer. Your guests will love your red herrings.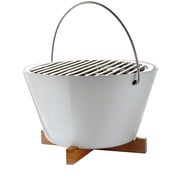 Barbecue Products in our shop
Click the button to enter our Home Design Shop.
View now!
About the Author:
I am Claudia, 28, food-enthusiast, crazy for cameras and aesthetics, cats-lover with the tendency for storytelling and a lover of exceptional Food-Paring. Did you like my tips and tricks? Then visit my blog BEHYFLORA - food lifestyle photography. There you will find out a bit more about me and my unusual kitchen ideas. Find more dips and salads that are wonderfully suitable to be used as red herrings. Recipes for homemade herbs butter with a "wow-effect", water melon feta salad as an exciting refreshment and the heavenly avocado cream for all situations and supplements wait for you on behyflora.com. See you!