Article from the 2015-04-27, of Anja Beckmann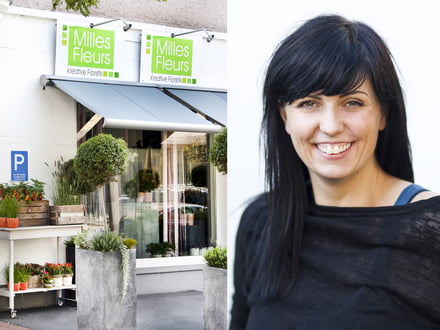 If there is a day of flowers, then it is mother's day. Did you know that 70 percent of all Germans offer flowers to their mums on Mother's Day? The florist and flowers expert Friederike Rahlfes of Miles Fleurs answered our questions. She revealed some ideas about how to emphasize the beauty of flowers creatively. This is how a common gift becomes a gorgeous surprise!
We tend to place flowers in a vase without thinking much about it. But how is it possible to emphasize the beauty of different flowers in different vases?
You yould fill the bouquet with green leaves and grass-like decoration like blueberries. This will give the flowers a different possibility of spreading without lying on the vase's border. Or you simply let the florist bing the bouquet for you. Thereby the options are nearly unlimited.
How to correctly care for flowers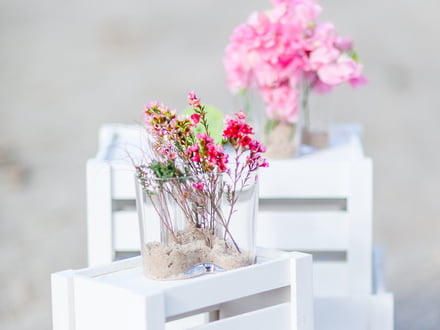 Fresh flowers are beautiful in every home. Many cut flowers only last for a few days. Have you got a trick for them to last a bit longer?
Most of the cut flowers only last about one week. Of course there are some sorts that last a bit longer. What's important is to cut the stem, to add clean water to them and to use a suitable vase. You will get a freshness enhancer for the water from your florist when buying a bouquet. Another important thing for cut flowers is the place they stand in. They don't like direct sunlight or airy places. If the temperature is too warm and a heater near the flowers, they won't last for a long time. Some flowers also like hand-warm water.
Which flowers last long and are therefore especially suitable to be used as decoration flowers in a vase?
Pincushin proteas, anthuriums, heliconias, cloves, mums and amaryllis. There are even some sorts of roses nowadays, which will last for a long time.
The right vase for the right flowers
Which vases are suitable for which flowers?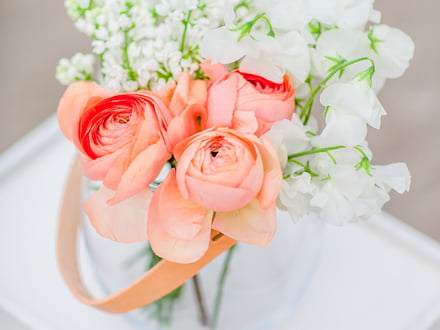 Bulky and fine vases like the Cocoon Vase by Holmegaard are suitable to hold callas, French tulips, amaryllis and lilies. Peonies, Christmas roses, filled tulips and hyacinths look gorgeous inside of more playful vases. A big mouth is important for the flowers to fall loosely. Edged vases of porcelain, like the Surface Vase von Rosenthal wonderfully fits graphic branches, like those of the corkscrew hazel and the quince, and maybe some accent flowers like orchids.
I can imagine peonies and tulips on the Flux Vase by Rosenthal. You can also use typha to fill the base and some oversized white lilies to grow out of it. The curvy, bulky Still Vase by Normann Copenhagen for example, is perfectly suitable for a minimalistic mono-chromatic design with vetches, phlox or matthiola.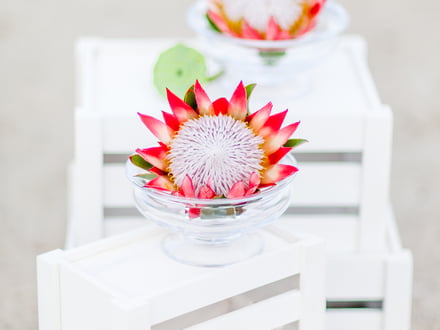 And finally there are some all-rounders. Amongst them is the Ruutu Vase 115 by Iittala. This one is able to hold all kinds of bouquets with its linear shape and the height of it – with single flowers or a mass of them with special leaves like aspidistra, alocasia, typha or steelgrass together with an accent flower, like a protea.
If we don't want to live without flowers, how would you suggest to emphasize flowers in a vase or combined with vases?
The easiest solution is to use an opaque vase or container in general terms. If you still prefer to use a clear glass vase, you might need a cover for the base. Stones, pebbles, mussels, cork mats and similar things are suitable for that.
Which pot plants are suitable for that?
When it comes to plant pot plants, there is a lot to be chosen. Your florist is able to suggest which plants to use and how to plant them depending on the place you live in. The light intensity, the warmth and the air humidity play important roles. And also how long your plants should remain outside. Flourishing plants mostly last a few weeks, but afterwards you will only see the green leaves of them until new blossoms come.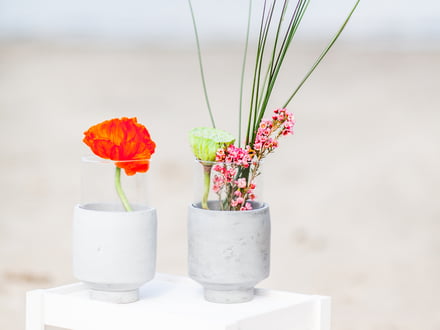 Orchids look clear, modern and pure in general terms. It is easy to care for them. Echeverria are my personal favourites. The tubular echeverria is able to look gorgeous in a minimalistic modern room.
Flowery tips for every day
Have you got a fast DIY tip for a beautiful bouquet for every day?
Use a vase like the Elevated Vase by Muuto and pot plants like the succulent echeverria with different colours structure. It is also possible to play with the height of them. These plants only need a few water, which they save in their leaves. They look fresh and modern and it is easy to care for them.
How to clean vases easily after they've been used?
With lukewarm water, dishwashing detergent and a sponge. Rinse it throughout afterwards. Some households use Corega tabs when their vases are very dirty. These one remain in the water for one night. But the most important thing is to change the water every second day and to cut the flowers' stems. The flowers will live longer and the water won't get that dirty.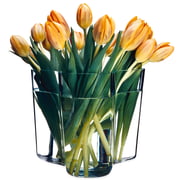 Vases in our shop
Click the button to enter our Home Design Shop.
View now!
The perfect gift for Mother's Day
Which flowers should we offer to our mums on Mother's Day?
Listen to your mother's taste, is what I'd say. Look at what she has at home. Some mothers have a favourite colour or a favourite flower. I do personally like airy bouquets with a lot of green.
Thank's a lot for the conversation, Mrs. Rahlfes.
[Pictures: Anja Schneemann]