Article from the 2015-08-21, of Guest author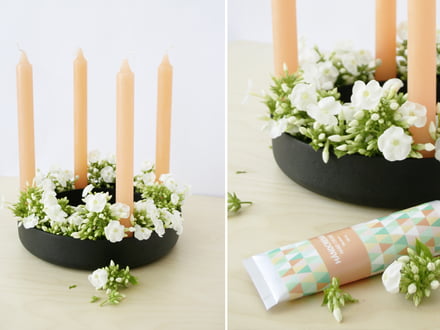 Not many things are able to change the atmosphere of a room in an instant and with little funds as flowers are. Whether delicate cherry branches at Easter, colorful peasant bouquets in summer heat, grasses and berries branches in fall or fresh pine scent in the advent season - the presents of mother nature accompany us during the whole year arranged in vases and jugs. I went to the bottom of the following five myths of flowers, because cut flowers can be much more than a despicable bunch of yellow gerbera.
1. Spring fever asks for colourful flowers
Daffodils, hyacinths and similar are popular heralds of spring and charming emphasizers of course - correctly combined, there are more alternatives: White blossoms are also able to introduce fresh air into your home in combination with candles in sorbet hues such as turquoise, peach or rose, looking even more beautiful on wood and in Scandinavian furnishing environments. The simple candleholder Gloria by Muuto is a real multi-talented for such wonderful creations - he offers lots of room for alternate flower arrangements in addition to wax beauties.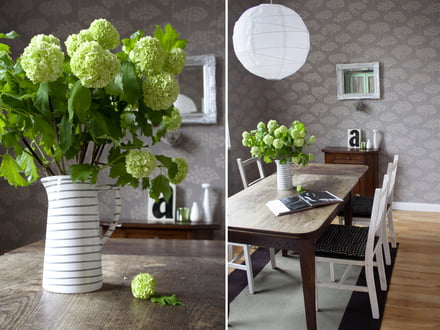 2. Green alone is boring
By no means! Shades of green can be a real eye-catchers in all the facets! If they are not yet fully blossomed, for example, the flower balls of Viburnum Opolus will shine bright in pale lime green. They add freshness to rooms with pattern wallpapers or loud colours on pictures or wall colours, without competing with the environment. Ornamental grass arranged in groups of glass vases and flacons are as well withdrawing suiting people who like colourful rooms.
3. Flowers have to be in vases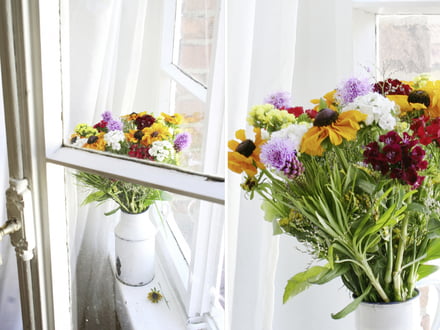 Of course there are a lot of wonderful vases - but it is worth to think about alternatives: Enamelled milk cans, as stylish addition to the colourful farmer bouquet like here - fantasy is not limited, since flowers of individual lengths can beautifully be arranged in clay jars, carafes or elegant glass bottles, cups for individually large flowers such as chrysanthemums and more. Small bouquets or soloists look well in old tubes or pitted light bulbs as a hanging decoration.
4. Faded flowers have to be thrown away
No. Hydrangeas, for example, that have inspired us in the summer with their delicate colours, are wonderfully as a fall decoration.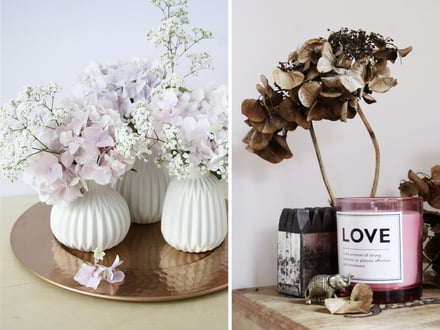 Cut off the flowers for it, place some water in a vase and don't pour more afterwards - the falling water level will let the flowers dry out slowly. If you want to keep the colour of the flowers, mix a ratio of two-thirds of water and a third of glycerol in the vase. Many grasses, thistles, poppies or lampion flowers are as well suitable for decoration purposes in late summer and autumn. Wreaths of discoloured grape leaves are quickly bound with wire, autumn leaves can be attractively arranged with berry branches.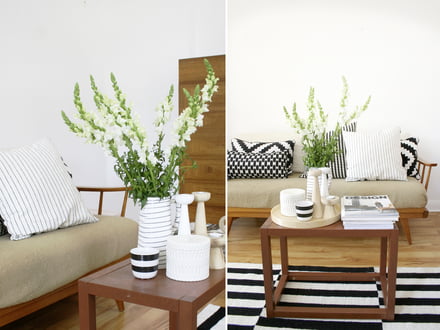 5. Flowers are too colourful for the popular black and white look
Black and white home landscapes can be a great stage for white, long-stemmed flowers as gladiolus or larkspur. Their elegant slender shape acts particularly elegant in a restrained colour setting. The green foliage provides freshness and liveliness, the lush white flowering perennials blend harmoniously in monochrome environments.
Design vases: A new home for cut flowers
For the flowers to play a great role and the vases to adapt to the changing colours, I've selected my favourites of the Connox assortment: clear, straight-lined shapes and decent colours. Materials such as wood, brass and slightly tinted glass are real all-rounders and combinable with flowers of all kinds.
My favorite vases of connox (from top left to bottom right): - the

Elevated vase by Muuto

, - Hexagon vase by ferm living, - Surface vase by Rosenthal, - Still vase by Normann Copenhagen, - Gloria candleholder by Muuto, - Poppy vases of Applicata and the - Willmann vase by Menu.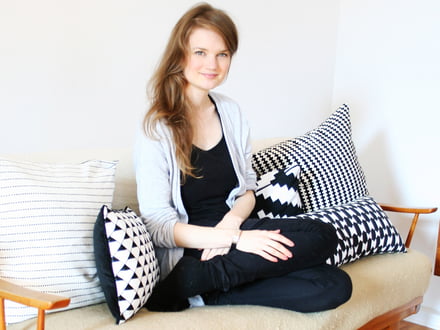 About the author:
I am Kea, an independent graphic designer, blogging since 2014 on www.hello-mrs-eve.de about my passion for interior design in general and in particular the Scandinavian style. I live in the Rhine-Main with my husband and our two cats and am as well a happy second-flat Berlin since the beginning of the year. My largest power and inspiration source is nature - of course I love to introduce it into my house with flowers and plants!