Article from the 2015-04-09, of Anja Beckmann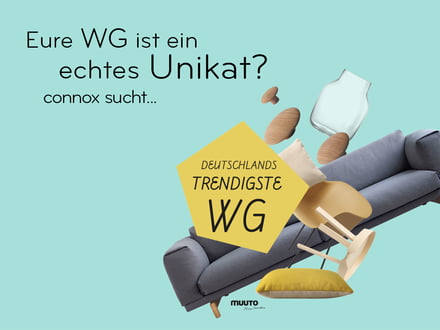 It starts today, we are looking for the trendiest shared flat of Germany! 4.2 millions of Germans share a flat – and the amount increases. The "Germany's trendiest shared flat" competition is a chance for us to open some doors. We want to look inside of German flats. Every German shared flat is invited to send images or videos of the flat to our competition page until the 4th of May of 2015: German page.
Shared flats aren't only solutions for students, but also for aboard working people, singles and elderly people. People decide to live in a shared flat because they like to have people surrounding them. In big cities like Munich, Cologne or Hamburg, flats are very expensive: Money is another reason of looking for flats with more people. If four people shared a flat, they'd be able to save rental money living in a higher standard flat than if they were alone.
Wanted: No shared design flats, but real unique homes
Every shared flat is unique. People, tastes and furnishing styles come together, being combined on a special way, which wouldn't occur, if the people lived alone. Not everything must be perfect in shared flats, since their inhabitants are brave. The treasures developing in this competition are presented to the world in here. Thereby we won't value extremely precious apartments with the most expensive furniture, but how unique the home concept is. That's the reason for this platform.
Design prizes with a value of more than 12,000 euros
The flat becoming the trendiest shared flat of Germany will be chosen by you. The voting starts on the 5th of May. Choose your personal favourite among all the pictures and videos and vote for it. The participants won't come away empty-handed, of course. The winners with most of the votes will get furnishing things valued more than 12,000 euros. Look at the prizes.
If you like the competition, share it and tell your friends about it – or be part of it! We would be happy about it.
Open the competition page!