Article from the 2016-07-06, of Anja Beckmann
The home design trend for individualists and free spirits. Away from the mainstream, a style has developed that swims against the current. It's considered the most bohemian trend of the upcoming season: Mix & Match. Defined by opposites, styles from all sort of eras come forth in corageous combinations to create something new - a surprising alliance of style, colour and shape. It's anything but mass-market, with each individual creating their own unique style. That's how Mix & Match works!
Show me how you live and I'll show you who you are.
Free thinking starts at home. The latest trend encourages you to see your house not as bricks and mortar, but as a playground for you to explore and express your unique personal style. This is no place for rules: anything goes. New meets old, unusual patterns are flaunted in vibrant colours, top brand designs are set next to second-hand curiosities. All manner of materials and designs find an unconventional connection, with street style and 80s retro often dominating. Mix & Match is a style that breaks all taboos and is reminiscent of eclecticism - a design principle in which different objects, styles, materials or elements are freely combined and joined together to form something new. Despite artistic freedom and a lack of rules, this home design trend has a common thread: creative exuberance.
A Colourful Mixture of Furniture to Express Individuality
With furniture and home accessories, it's all in the mix. Design classics from the 50s alongside minimalist modern pieces, that mirror you discovered at a flea market and the Ball Clock by Vitra, filigree chairs with solid oak tables. Why not try mixing some outdoor furniture into the living room? Modern garden furniture is exceptionally comfortable and brings a sense of freedom to an indoor space. Live however you like! Modular sofas, flexible shelving systems like those from String and furnishings with countless colour and size variations demonstrate the social trend towards individual freedom.
Bright Colours and Unusual Patterns
From bright red to mustard yellow, royal blue and grass green – next season's funkiest style doesn't have any restrictions on colour. Make it bright and mix it up! Even when it comes to pattern, the style is free - graphically abstract or floral-romantic, polka dots, typography, animal prints, illustrations or photo prints. Be bold and combine several different patterns. The colours and patterns from the Mix & Match style are reminiscent of street style, pop art, and the retro look of the 60s, 70s and 80s.
A Bold Mix of Materials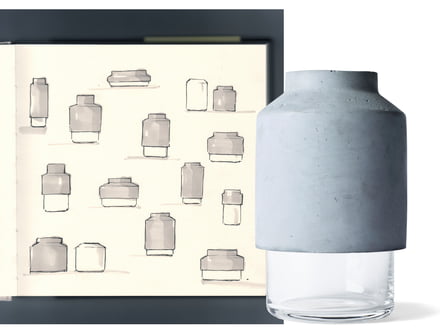 The material combinations could not be more daring. Plywood and metal, glass within concrete and plastic, faux fur and other textiles; all create an extraordinary synthesis of texture and light. The Willmann Vase by designer Hanne Willmann is a prime example of the extraordinary effect of unusual material combinations: hard concrete juxtaposes delicate glass to create a vase that is not easily overlooked.
And that's not all: lampshades made of feathers, laptop bags disguised as envelopes,, crumpled vases, side tables in the shape of animals - the new trend also grants designers a new freedom. Everyday objects are reinvented and the boundaries of design are tested and expanded. This style is defined by the unusual. You too can create your own unique style! How? Don't think about it too much - just get started.