Article from the 2016-08-04, of Guest author
First-Aid for (too) Hot Summer Days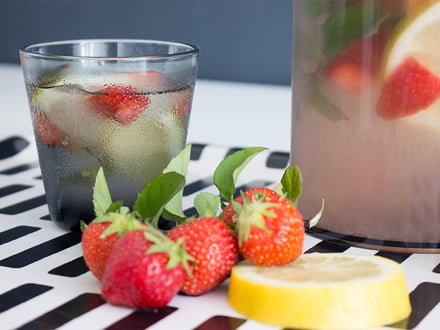 The 30 degree tag has been achieved; the sun is finally shining for longer now in Germany as well. We should now thing of the necessary methods of cooling down ourselves. If the next swimming pool or even the sea is too far away, you will also be able to be refreshed in your own four walls. I am not talking about a cold shower (don't worry), but about the cool liquid content of drinking glasses, also elegantly called "Infused Water" by the Americans. This denomination describes water enriched with fruits, which isn't only a healthy alternative to lemonades, but which is also very helpful for us to drink enough water during the day.
Infused-Water-Recipe – Strawberries, Lemons & Mint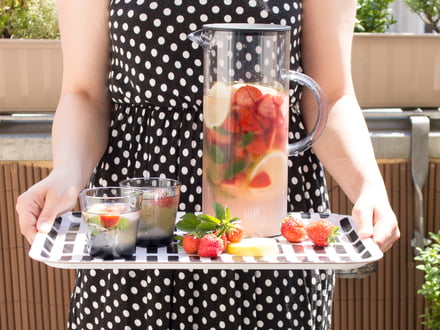 The fruity water is thereby easy to be prepared and it immediately increases our summer mood. It can be prepared in uncountable variants and your fantasy isn't limited therefore. I decided to present the strawberries-lemons-mint water, since I already had fresh mint on my balcony and I find the combination very suitable for hot days.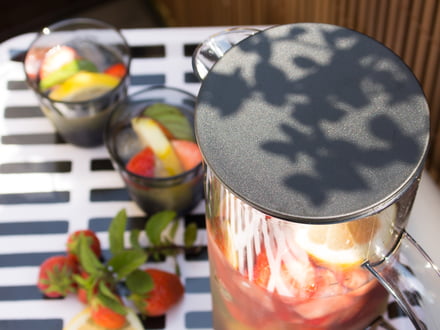 Ingredients for the strawberries-lemons-mint water
2 litres water
2 lemons
350g fresh strawberries
fresh mint as required
Preparation: Thoroughly wash the lemons and the strawberries. Cut the lemon in slices afterwards, free the strawberries from the leaves and cut them into cubes. The fruits can then be filled into a carafe, if possible a lidded one. I hereby used my Stelton water filter jug, which usually helps when I filter my water. For that I had to renounce the water filter for once. It is all covered with water now and refined with fresh mint. In the end it has to be left alone for a few hours, over a night if there is the time, in the fridge – ready! If required you can add some ice-cubes.
The fruity water is really the perfect refreshment for hot summer days and also for people that hardly drink water. I usually serve the whole thing on the Siena Tray by Artek porting it to my little city balcony. There I can perfectly enjoy the summer, the sun and the warm air with a cool drink. Enjoy trying it!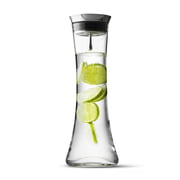 Carafes, Jugs in our shop
Click the button to enter our Home Design Shop.
View now!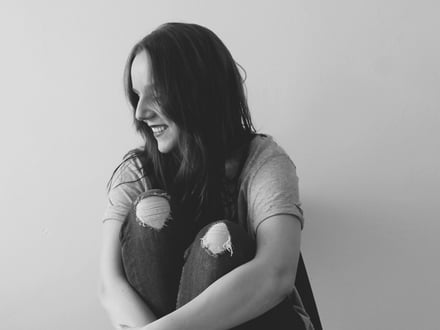 About the author:
My name is Lisa, I am 25 years old and I live in the beautiful Berlin. I share my passion for design on my blog itsprettynice.com. There you will find inspirations, ideas and rare treasures that embellish everyday life a bit. I love to create thinks, to individualise furniture and to create DIY ideas. The combination of it all is the essence of my blog.