Article from the 2015-05-22, of Anja Beckmann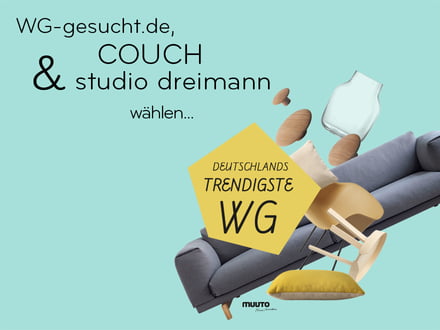 All good things are worth waiting for. We are looking for "Germany's trendiest shared flat" and the search is slowly ending. A jury will decide about the three winners. We were looking for suitable candidates for a long time and finally found a jury of experts. All of the presented flat images and videos are going to be watched by our jury – a jury that has a lot to offer.
The reminder: Manipulations of some of the participants were the reason why there were unbelievable and unfair voting results, which is the reason why we decided to put an end to the competition prematurely. There was the question we had to answer: when does manipulation start? Technical and judicial uncertainties – we want to apologize therefore – erased the borderline between cheating and manipulation. Finally we found the limit where the influenced votes noticeably damaged the results of other (honest) participants. We found it unfair to name a winner this way. The voting came out to be the wrong method to find a winner for this competition.
We really don't want to cancel the competition without having found a winner. So many people had a huge effort – and they should be honoured therefore. An independent jury was our solution. This one will fairly decide about the most trendy shared flat of Germany, regardless of the votes collected so far.
Our jury: Shared flats, design and young living experts
WG-Gesucht.de
This is Europe's biggest property portal for shared flats and flats free of provisions. For those of you who are looking for a shared flat, you will find it in there. The team behind the German homepage WG-Gesucht.de saw a lot and they are experts of that metier. The team knows how people of shared flats live and they ensure the ground contact among the jurors.
studio dreimann
studio dreimann is a design studio of Hannover. Jonas Ette, Simon Kux and Tim Prigge design consumer goods, industrial design, furniture and lamps for different national and international customers since 2010. The creative trio also designed for the Connox Collection already. The innovative and functional designs of the studio were honoured with the Interior Innovation Award, and the Good Design Award. One of the most famous products of them is the Ice Watch.
COUCH
COUCH is a young home and fashion magazine. It fills the gap between classic home magazines and young lifestyle magazines. The journalists concentrate on home design trends for young people every day. Classic pieces are valued as well as individuality, lifestyle and new rooms full of character and style – just what we are looking for with our competition.
Something we want to say to our participants: We would like to apologize for the long waiting time. We really hope our contests ends with a fair result this way. We are very anxious to hear the decision of the jury! We will inform about it.