Article from the 2015-11-02, of Annika Schneid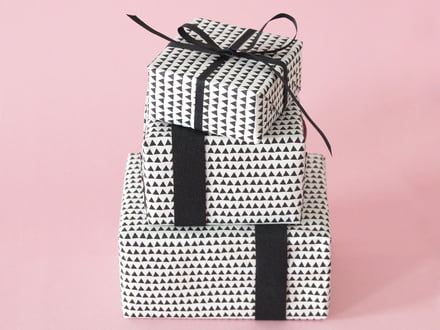 Make your friends and family happy, by means of making your presents on your own - for Christmas, birthday or as a gift in between. There's a lack of inspiration? No problem, we have looked around in blogs and found magazines and then we took scissors, glue sticks and pens by our own for you. We introduce our favorite ideas for homemade gifts today. The best thing about our tinkering tips: They don't require much time and are ready in only ten minutes. Be creative!
Candles with a Masking Tape dress
A simple candleholder is easily upgraded with an individual candle. But don't fear you should access pot and wax and pour your own candle. Get a masking tape, which is much quicker. The rice paper tape is available in various colors and patterns - summer decor, Christmas or spring fever, the selection is huge. Stick the tape around the candle and you're ready! Tip: For unusual shapes, stick the tape edge to edge on a transparent envelope, draw the desired shape and then cut it including the plastic envelope. The masking tape will easily be removed from the envelope and finally adhered on the candle.
This is what you need: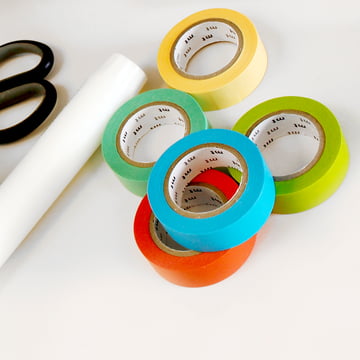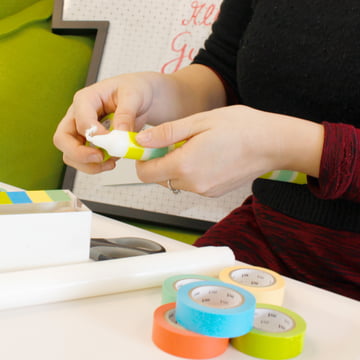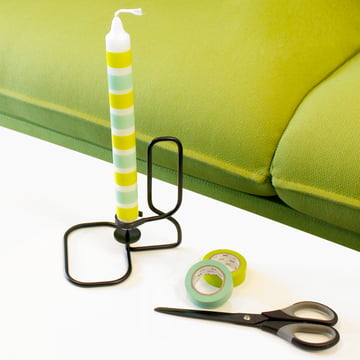 You will find a more candle ideas in here.
Wine box with homemade oils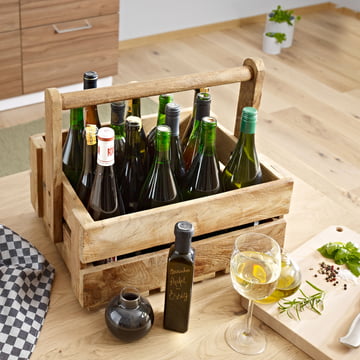 Whether for the barbecue, the salad, the vegetable pan or a steak - oils are versatile. They are especially tasty combined with herbs. Herbs contain degreasing substances, while oils are able to absorb the volatile flavors of herbs and to preserve them as well. Homemade oils are exceptional gift ideas presented and stored in beautiful bottles and in the rustic wine box Kista by Jan Kutz, not only suitable for home chefs.
The favorite recipes of Connox:
Parsley oil: 1 bunch of parsley on 100 ml grapeseed oil
Chili oil: 3 pitted and chopped chili peppers on 100 ml soy
Orange oil: The peel of an untreated orange on 250 ml olive oil
Rosemary oil: 1 large sprig of rosemary and 1 teaspoon of allspice on 500 ml canola oil
Porcini oil: 20 g dried porcini mushrooms and 2 tsp juniper berries on 200 ml olive oil
Find more recipes in here (German page).
Creamy hot chocolate on a dessert spoon
After a long walk in the cold autumn or winter air, your feet might have become cold. In such cases, a hot chocolate is just right. It warms from the inside and starts the cosy part of the day. Cocoa powder may be the most used variant, but gourmands know something else: couverture. The creamy chocolate drink becomes a small attention combined with a beautiful dessert spoon. To melt the chocolate couverture, keep it over a Bain-Marie and drop it on the spoons. Let the whole thing cool a few minutes. As soon as the chocolate is thick and sticky, you can decorate the spoon with pearls, sugar sprinkles, coconut flakes, or spices. There are no limits to your creativity!
All you need this: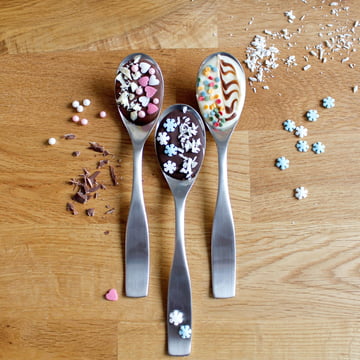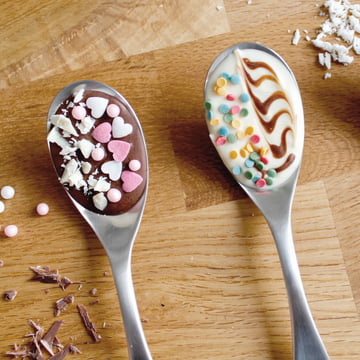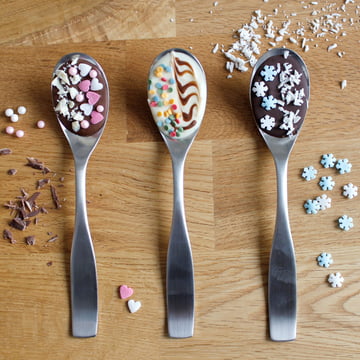 Fruity peeling with sea salt into glass carafes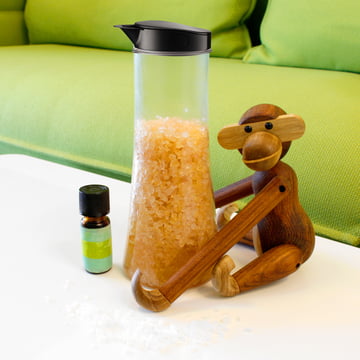 Beauty lovers suggest it: peeling. It invigorates and gives a radiant tone to our skin, by means of freeing it from excess cells. But is not always clear to recognize which ingredients hide in them. Our homemade sea salt peeling is guaranteed without any hidden ingredients. Mix coarse sea salt with oil, some food colouring and a few drops of an essential oil. The rough salt grains will clean your skin and disinfect it, while the oil nourishes it and calms it down. The fruity scent of essential oil - orange or almond - aditionally vitalises.
You need this:
Oil (such as almond oil)
A few drops of orange essential oil
Salt
Food coloring
Be inspired in here (German page) by another homemade peeling.
Make candles on your own: Design cup meets candle wax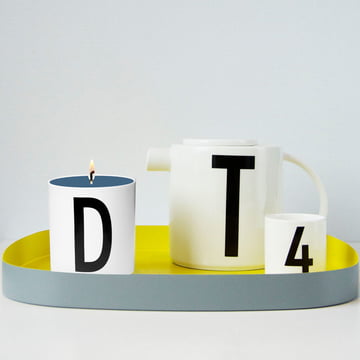 It's nice to sit comfortably on the sofa with the loved ones, and to drink a cup of tea in the evening. A candle encourages the relaxing atmosphere. The tea ceremony with a homemade Cup candle is trendy. Wrap a wick around a spit for it. Place the spit on the edge of the cup and make sure that the wick hangs centrally. Melt the wax granulate in a pot and then pour it into the cup. Tip: Cup candles are an ideal personal gift. Give a few drops of fragrance oil to the wax and pour it then in an AJ porcelain mug by Design Letters with the initials of the recipient. This is how you get your own personal favorite candle.
You need this:
Discover more variants of selfmade candles in here.
Homemade, individual whiteboards - organising can be nice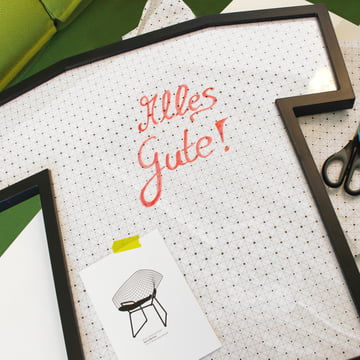 Mountains of documents are piled on the desktop: Notes, drafts, dates. A whiteboard would organise the office desert. Notes could quickly be recorded and wiped away just as quickly again. Unfortunately, whiteboards are rarely decorative. White, boring, with a purpose - this is most likely. With the homemade Connox variant, you will avoid such a problem. Take a picture frame and cover it with wrapping paper. Leave a message on the glass with board markers and remove them again with a small sponge. Make sure that your pen is actually a wipe marker. Another tip: Clamp rubber bands behind the glass like a cross in order to trap cards and notes in front of the photo.
You need this:
Seedbombs - never fading bouquets
Flowers are a popular guests gift. The recipient unfortunately won't be able to enjoy the flowers for too long. Bouquets bloom quickly. Seedbombs are better suited. Seedbombs are small balls of soil, clay and seed. Originally, they were distributed in the cities to green them. But they are also perfect to be offered individually. Mix the below listed ingredients, shape them into balls and let them dry one or two days, spread out on a piece of paper in a warm place. The green bombs are nice to be given away in the mini greenhouse by Designhouse Stockholm. Particularly practical: The greenhouses ease the start of the life small plants in addition. We found this tinkering tip at the blog curious and CatCat of Katharina.
You need this:
250 g of soil
125 g of alumina
Flower seeds to taste them
Water (the mass should be soggy, but still easy to be formed)
Snowball: Winter wonderland
Clearly: Snow is a part of Christmas. But not every region is lucky to enjoy the white wonder. This can be changed with a few simple steps, tips and tricks. Christmas feelings arise with a winter wonderland in a glass. Glue your figure with waterproof adhesive to the inside of the lid. Fill the glass with distilled water, a drop of washing up liquid and artificial snow or glitter. Screw it well and decorate the homemade snow globe with a pine branch and Christmas followers. We found this tinkering tip for homemade gifts at the blog Luzia Pimpinella from Nicole.
You need this:
A waterproof glass (like the Alessi dressed glass, if necessary with Christmas ornaments)
A small, Christmas porcelain figure (like the Alessi Hug tree or other Christmas crib figures by Alessi)
Artificial snow or glitter
Distilled water
Detergent
Pine branches and gift tags to decorate (such as the Snug.typostars)
You see, making gifts by yourself is not that hard! You will have created a personal gift or gifts for friends and family in only a few minutes. In the event that you want to complement your homemade gift with another component, we have selected some of the most wanted gifts of our gift pages for you. Find gift ideas for Christmas, gifts for girlfriend and for the boyfriend and Crazy gifts and individual gifts.
We wish you much joy for tinkering and gift-giving!