Article from the 2017-12-28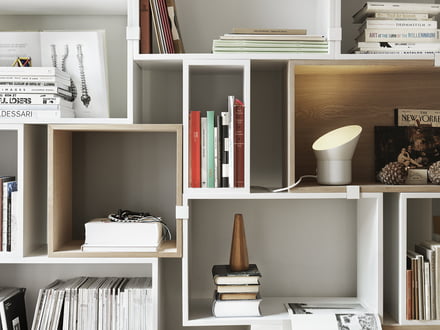 To live without storage space challenges our idea of style and our striving for organisation. Who doesn't know it: Shoes are piled in the corridor, suitcases and sports bags lie around in the living room. The vacuum cleaner doesn't let us enter the bedroom and the limited working surface of the kitchen is filled up with kitchen utensils. But the chaos is beatable with a little bit of fantasy and the right products. Conjure up unexpected storage space with our 7 tips – without any storerooms.
Functionality is the heart of good design. That's why homes without storerooms are a perfect playground for designers. The challenge: as much storage space in little room, without disturbing the overall image of the flat. The result: Versatile solutions and unique products for stylish living without storeroom. Find the solutions and how to use them usefully in here.
1. Creating storage space with flexible shelving systems
If there is any storage space, it will be wonderful to use niches. Flexible shelving systems perfectly fit in unused places like sloping planes and wall recesses without needing much space apparently. String, Muuto and Tojo designed such shelves. They are individually mounted and adapted to your personal space situation. Different shelf sizes, brackets and additional elements like drawers and doors ensure it. The single modules are combinable in length and height. That's how you will create shelving systems with stylish design storage room for clothes, toys and books.
2. Keeping important things visible with pin boards
Details are already able to change the appearance of a small home. Have you always hidden notes, post cards and brochures under the living room table and the kitchen? Then put them all together. The Memo magnetic board by Magis offers vertical storage space and tidiness as well – inside of a room and in your head. Organise the whole household with different materials on a big pin board. Some pin boards even have additional trays for pens or pins, with which it is easy to fix post cards.
3. Small corridor? Wall hooks instead of wardrobes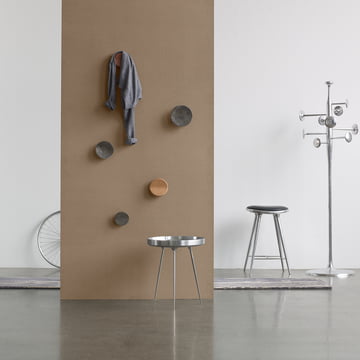 Do you have a small corridor – or do you miss one? You won't have to miss a wardrobe. Get some wall hooks instead, they fit in every corner and behind every door. The wall hooks "The Dots" by Muuto are one possibility. They are available in natural tones as well as in white or black and they add a warm note to your room, they adapt to your flat and hide in front of a white wall if you choose to mount the white ones or they contrast the walls, if you choose to mount the black ones. Let your creativity run free when you organise them. Jackets, bags and scarves will find a safe space then! You think the jackets, bags and scarves will disturb the overall picture? They mustn't. They will add more personality to your place contrasting closed cabinets and wardrobes. Authentics adds a practical and chic mirror cabinet to your bathroom with the Kali Collection furniture – it is a perfect storage space for creams, makeup or razors. But there are also some mirror cabinets with backside doors for the corridor – like Push by Skagerak.
5. Trunks and baskets instead of storerooms
Bags, shoes and cleaning tools mustn't remain visible in the middle of a room. Use trunks or storage baskets. Jan Kurtz offers the Amelie trunk, for example. This one is a real all-rounder, since it offers a lot of storage space and it is easily stackable. The simple, natural design makes it also suitable to use it as side table. Decorative. Magazines and tissues or bathroom articles are storable inside of the Restore baskets by Muuto. The natural material surface with felt-look and the round shapes let Restore look friendly and pleasantly unobtrusive. Restore remains in the background in white or grey and it is a real eye-catcher with the other colours.
6. Seats with storage space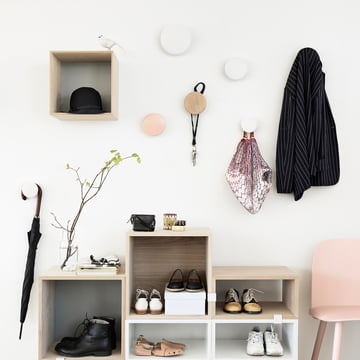 Store these boxes and trunks under benches. Benches spread an uncomplicated and rustic flair in the kitchen and the corridor. It is also possible for three or four people to sit on them if necessary. Guests are always welcome! The Georg bench by Skagerak is very space saving. The thin body looks naturally weightless. Benches are also beautiful when they are combined with chairs. Please ensure that the colour of the bench is repeated in a detail of the chairs. You decided to purchase a wooden bench? Then choose chairs with legs in similar wooden tones. The repeating of the colour will look harmonic despite of the usage of different pieces of furniture. The wardrobe can surely be accompanied by a rustic bench. The wooden Cutter bench, also made by Skagerak is very suitable for this and it has a lot of space under the seat.
7. Storage solutions for the kitchen
The kitchen needs to remain free of bulky furniture, since the cupboards should be easily accessible. The kitchen is often visible from nearby rooms, which is the reason why closed cabinets make sense in here. Doors or blinds will hide untidiness. Add shelves or – if there is less space – some wall trays to empty spaces. Chic colours or decent, but stylish utensils boxes or containers hide ingredients, baking and kitchen tools and they are easily placed on shelves. Some baking books and chopping boards out of wood will be useful and decorative in the shelf.
Room wonders of the home design shop
There are numerous possibilities for storage space in a home without storeroom. Find clever concepts and original pieces of furniture in the Connox home design shop, in order to organise the lumber room look. Wardrobes and storage room hide behind Push by Skagerak (1.). Skagerak hides scarves, hats and coats behind the big Push mirror, organising the appearance of the room.

The awarded
Toi side table by Zanotta
(2.) doesn't only convince because of its stylish design, but especially because of its small secret hideout. iPod, remote control, mobile phone and co. hide inside of it as soon as there are guests to come.
Another eye-catcher is the Schönbuch mirror wardrobe of the Flare Collection (3.). It is fixed at the wall and won't need much space of the ground therefore. It combines a wardrobe and a mirror, as well as Push – and it offers some colourful design highlights as well.
The
sofa system Open
(4.) by
Alain Berteau
offers practical storage room under the foldable seat. Blankets, cushions and bedding are therefore comfortably stored. The single modules adapt to your home situation like toy blocks. The simple design ensures visual tranquillity and it organises the living room noticeably.
Dark, rustic furniture make the room smaller if there is already little space. Use slightly coloured or bright pieces of furniture instead. The
Leaf chair by Arper
(5.) adds freshness to the kitchen and it won't need much space because of its slum shape. It is weightless and weatherproof and therefore also usable on the balcony. And: The ergonomic shape of it is surprisingly comfortable.
Conclusion: Generally: Place things on top of each other and enlarge the room to the ceilings. Niches can be used cleverly and original pieces of furniture – room wonders – enlarge the storage space without needing much of it. Decent furniture pieces are tranquil spots. Discover more weitere tips for small rooms with style in here.
Maybe you are able to make use of some of our ideas. If you couldn't find the perfect room wonder for your flat, please contact our customer service via telephone +49 (0)511 300341-0 or E-Mail service@connox.de. We will gladly help you to find the right pieces.