Article from the 2016-09-13, of Anja Beckmann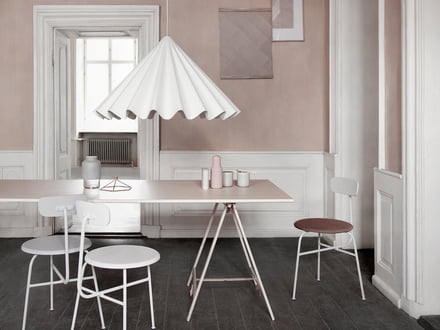 When pen and passion meet paper, when simple strokes correspond to big ideas - that's when everlasting designs are born. Over the course of the last few years, four names have emerged to take the world of design by storm. These four designers stand out not only for their craftsmanship, but for their innate talent in bringing lines and shapes together to create something beautiful. What connects them is passion. With clients including Hay, Muuto, and Louis Poulsen, these four newcomers have created some of the most memorable designs of the decade.
Hee Welling
In designing the Hee Chair, Hee Welling very quickly established himself as a protagonist in Scandinavian design. His designs reveal his focus on function and modernity, brought to life by the soft, organic lines that he uses in his furniture designs. His pieces carry style while remaining functional, and every single one of his designs carries forward the Scandinavian design tradition.
Iskos-Berlin
Designers Aleksej Iskos und Boris Berlin see design as a form of storytelling, and as such each of their pieces is simple, surprising and designed to make people smile. The designers are constantly working with new materials and innovative technologies, and cooperate with renowned designer brands such as Muuto and Menu.
Clara von Zweigbergk
Swedish designer Clara von Zweigbergk brings us bright, playful designs. Her delightful designs combine geometric shapes and colours to create lively pieces for the home and office. Her independent studio in the heart of Stockholm is the home of her refreshing designs, including the Cirque pendant lamp for Louis Poulsen.
Øivind Alexander Slaatto
Easy solutions for complex problems - that's the motto of Øivind Alexander Slaatto. The designer seeks to make everyday life a little easier through beautiful products with simple designs. The simplicity of his designs certainly adds to their beauty, and despite their easy functionality, his pieces seem almost poetic.
Extraordinary designs and creative ideas - the passion of these four newcomers is taking the design world by storm.
Share
Like what you see? Follow us on Facebook and Twitter for more home inspiration!
Share this post with your friends:
Facebook | Twitter | Google+ | Email