Article from the 2015-02-18, of Anja Beckmann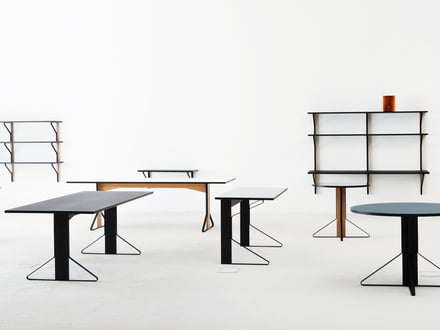 Artek presents the new Kaari Collection by the designers Ronan and Erwan Bouroullec on the furniture fairs of Cologne and Stockholm. The brothers cooperated with the Finnish innovation company for the first time. The Kaari Collection includes edged and round tables in two sizes, a desk, a wall console and several shelves in different sizes.
The aim of the brothers Bouroullec was to design tables that were practical and unique at the same time. They wanted to create a table which would be very innovative despite of the unchanged task it has. All the products should suit Artek and be completely new at the same time – without referring to previous Artec collections.
Innovative table-legs construction as magic key
Ronan and Erwan Bousoullec designed ideas from which one was noticeably different: an innovative table; a construction, which supports different table tops – big and small, round and angular, low and high. That construction should also be easily integrated in the designs of wall objects and shelves.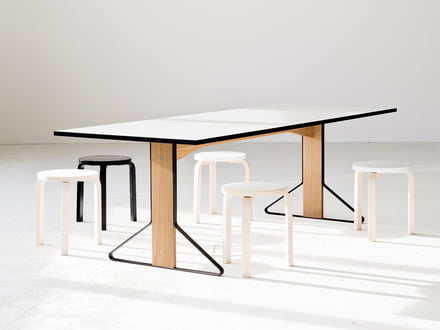 The principle is easy: A wooden vertical part holds the table top. Diagonal, bent struts out of steel hold the piece of furniture in its horizontal position – elegant and nearly transparent. The combination of a solid wooden pillar and metal, soft arches gave a surprisingly weightless appearance to the objects. The shape of the legs and a distinctively linear design accompany all the Kaari products.
Kaari table: linear, rathmic and with a unique look
Several tables in a room look rhythmic – which is something untypical for such a static piece of furniture. Observers have the impression of seeing something really new. This impression doesn't come from the innovative materials or the new technology – previous tables were already made of wood and steel and they already belong to the Artek repertoire. The brothers used linoleum and a wooden pressure laminate (HPL), which absorbs and reflects the light on different ways. These materials result in an impressing surface along the time. This is how the Bouroullec brothers reached their aim – creating a table, which will surely enter the history of design.
Kaari products in the home design shop soon
Since the construction of the legs of the Kaari table is suitable for many different pieces of furniture, the Kaari Collection also includes a wall console, a small round shelf and different wall shelves. All the products will soon be presented in the home design shop.