Article from the 2015-01-06, of Markus Abraham
The ÖKO-TEST already ordered some of the products of our assortment in September. After they tested the products in laboratories, the results were now published in the magazine ÖKO-TEST 1 | 2015 in the storage accessories test part of the magazine. The results partly surprised us a lot.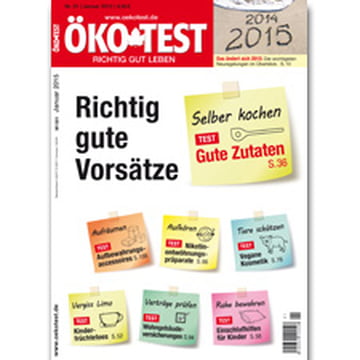 "…to finally organize correctly." This was the guiding phrase of the test of the magazine ÖKO-TEST, which included storage accessories and the amount of the pollutants in them.
The magazine tested all of the products for phthalates and plasticiders, concentrating as well on phosphor organic connections that are often toxic to our nerves. Since everyone prefers something different, ÖKO TEST didn't value the form and the function of the products – but only how friendly the products are to the environment and how harmless they are to our health.
There were several products with the best rating
The Hay Archive Hill Storage received the best rating: ÖKO TEST labels the boxes with a clean processing and as completely free of pollutants. This is possible because the storage boxes by Hay are made of untreated oak wood.
The We Do Wood Scoreboard wardrobe also has the best possible rating. The individual wardrobe is made of fast regrowing bamboo and of sustainable cultivation – the testers didn't find any reason for complaining with this product.
The Koziol Utensilo Bottichelli M was also rated as best as possible. With this the basket out of polypropylene proves how harmless plastic can be – since the standards of ÖKO TEST were also more meticulous in this test than those of legal limits.
Another "very good" candidate is the Muuto Restore basket. This one is made of recycled plastic bottles according to the manufacturer. The felt basket isn't only free of pollutants and harmless, but it also reduces plastic waste this way.
Unfortunately it isn't in our assortment anymore, but it was also labelled as "very good": The Beak by the Danish company Vilhelmine Design.
The testers found halogen organic connections and plasticiders in the the magnetic keyholder by Umbra, but they were rare, so that it was labelled as "satisfactory".
Connox reacts and erases "inadequate" products from the assortment
The XL Boom Saco storage baskef was "inadequate" in the tests of ÖKO TEST. The example of this basket out of cork textile we see how allegedly natural materials don't grant to be free of pollutants.
The results of the test by ÖKO TEST show how important it is to look a little closer: Plastic products can be much more harmless than allegedly natural materials – we will make the best out of the results and concentrate even more on the materials of our products.
Find further information about the test on the ÖKO TEST homepage (German webpage).