Article from the 2016-12-13, of Anja Beckmann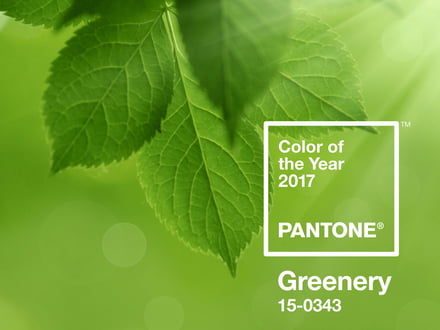 Green, greener, Greenery. The Pantone color for 2017 is a luscious green. Distinctive - and a noticeable break from the soft tones of Rose Quartz and Serenity from 2016. Perhaps that's why the Pantone Color Institute has chosen such an intense green as color of the year 2017 - because a little bit of hope can't be a bad thing after a year as turbulent as the last.
2016 was certainly a turbulent year. Brexit and the US presidential election were only two of many unexpected changes and surprises. The Pantone Color Institute is transforming turbulence into hope - and not a minute too soon. The new trend color symbolises vitality, energy and hope, says Pantone. When it comes to brilliant colors, it is unrivalled.
"Greenery bursts forth in 2017 to provide us with the reassurance we yearn for amid a tumultuous social and political environment. Satisfying our growing desire to rejuvenate and revitalize, Greenery symbolizes the reconnection we seek with nature, one another and a larger purpose", explains Leatrice Eiseman, Executive Director of the Pantone Color Institute.
We look forward to loud colors in the worlds of fashion, lifestylle and interior design! Even if you still need to get used to the color, your new year will definitely be off to a fresh start with an accessory or piece of furniture. Go for it - and believe in the good things for 2017!
Please note that the products below are not an exact match for Greenery unless specifically noted. They do however all promise a fresh green color to brighten your home!