Article from the 2015-07-16, of Sabrina Pflüger
Eames Plastic Chair: the classic piece with a new coat
The Eames Plastic Side Chair inevitably belongs to the classic one among all chairs and the more voluminous Plastic Armchair is also hard to think away from living rooms and waiting halls of all over the world. The range of colours of the classic piece is regularly completed with trendy tones and they also appear with a new coat and a new height this year.
Even though you cannot recognize the age of the Plastic Chair, the design is more than 60 years old. The pair of designers Ray & Charles Eames experimented for years with different materials searching for an adapted seat, until they eventually found fiberglass reinforced polyester resin. This one was easy to form without losing any stability.
Plastic sears were produced for the first time in 1950, after being presented on the "Low Cost Furniture Design" exhibition of the Museum of modern Art in 1948 for the first time as well. This made them the first serial produced plastic chairs of design's history – a novum and absolutely deserved design classic today.
Classic shape: new colours, new height
Despite of the timeless character of the Eames Plastic Side Chair, the classic piece by Vitra is offered in new colours and in a new height of 43 cm recently. The classic shape of the chairs thereby remains unchanged.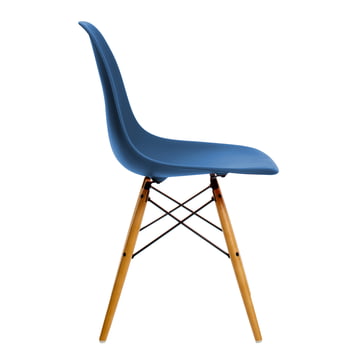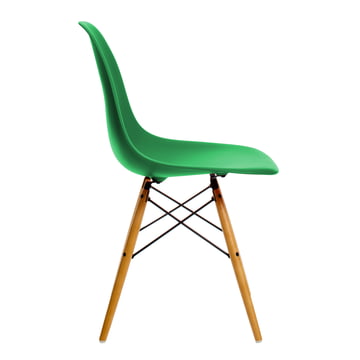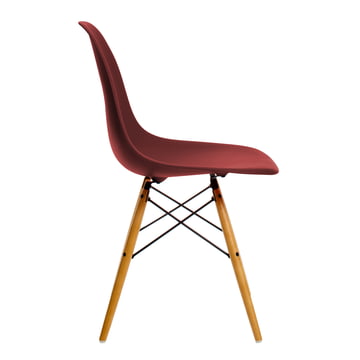 The range of colours of the Eames Plastic Side and Armchairs has been enlarged with six new colours in cooperation with Hella Jongerius, who supports the team of experts at Vitra as Art Director in the colours and material world since 2008. The seats are also available in ice grey, marine blue, moss green, oxide red, classic red and classic green now. The classic chair has more facets now with the new coats it can wear.
The classic chair is available with new bases now – additional to the classic height – in order to be as comfortable as back in 1948, as intended by Charles & Ray Eames. The new heights are adapted to the size of our bodies, which grew by about 10 cm since the first production of the chair.
Mix & Match: Eames Plastic Chair
The Eames Plastic Chair convinces with its timeless and very functional silhouette since 65 years now. The different seats are individually combinable with numerous bases, whether with or without armrests. Whether for living rooms, waiting halls, cafés and cantinas – the Eames Plastic Chairs are absolute all-rounders.
Chairs in our shop
Click the button to enter our Home Design Shop.
View now!