Article from the 2015-07-31, of Anja Beckmann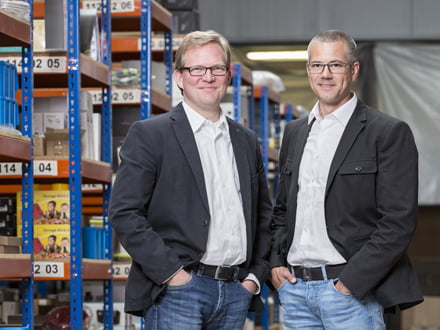 A modern online shop, apparently as minimalistic as most of the 12,000 designer furniture pieces and home accessories that they sell. New designs every day. Orders from all over the whole world. 45 employees in the background. That's Connox as we know it today. But what made us who we are? Where are we headed? And where does the name "Connox" come from? For our tenth anniversary I took the chance to look back over the last decade. And who better to answer all my questions than the founders themselves? Our Managing Directors Thilo Haas and Kristian Lenz were happy to help, and they have plenty of anecdotes.
Where did you meet? And how did you decide to found an online shop for home design?
Thilo (l.): We went to the Burgdorf High School together. We lost touch with each other afterwards, but met again at the 10 year school reunion and noticed very quickly how well our knowledge and expertise complemented could be combined. I was self-employed with the Haas Media GmbH* as Programmer and IT Services Provider at the time, but I had been thinking about a change of direction. Kristian had already worked in an online shop for some years. He brought with him a lot of experience, contacts and knowledge about the market segment. So, fairly spontaneously, we decided to launch an online shop for home design together. Haas Media became Connox.
*GmbH = German limited liability company.
Why home design?
Kristian (r.): That might have been my influence. While I was studying economy I started becoming interested in architecture. Interior design was still closely bound to architecture back then. That's how I first started with the topic and I became more and more interested in design and furnishings. I even thought about quitting economy for architecture! [Laughs.] Later on, I discovered a designer chair by Cappellini: the Y Chair by Christophe Pillet. The only thing I knew about it was the name of the designer – so it was difficult to find it again! At that point I started thinking that there should be a central location where you could find all of these design pieces. Perhaps that was another incentive…
And why "Connox"? Where does the name come from?
Thilo: That wasn't easy at all. We searched for a name for two months. We wanted it to look good, have a certain symmetry to it and of course be available. Especially in terms of Google rankings, it was very important to find a name that didn't mean we would be fighting with competitors for the first ten results.
Kristian: When we thought of "Connox" we only found two results on Google: A link to the magazine 1761 from the German science fiction series "Perry Rhodan" and one to a defunct company in Belgium. We bought the internet address connox.com from them, and then had free range to define the word with our own qualities. Connox was to stand for quality and first class service.
We have more than 3,200 square meters of office and warehouse space at our disposal here in Hanover. You surely didn't start with such a big warehouse, did you?
Thilo: No, we started with 180 square meters in a former post office on Bothfelder Street in the List district. We were there for almost two years before the warehouse was so full that we were only able to work between overfilled shelves! During the last Christmas period in the old post office we had to pile parcels up on the path outside until they were collected, because there wasn't enough space in the building. Luckily it didn't rain or snow! We moved once more before we ended up here in the Alter Flughafen district. Our continuing growth meant that we couldn't stay anywhere particularly long.
Tell our readers more about the beginning.
Thilo: We started the shop with only ten products and from there put one foot in front of the other to slowly expand. That was how we were able to get by without external funds. We only had one employee back then: an IT specialist, who we worked with to programme the EC Suite - called eCommerce Suite back then. Looking back they were very different times. When the first order arrived there were loud cheers. [Smiles remembering that moment.] We wrote the first invoices on Word, because our shop software wasn't ready yet.
Kristian: Of course, not all the things worked immediately. We had to convince the manufacturers from our concept of selling furniture and home accessories online. People said the internet damaged the prices back then. Many manufacturers wanted to protect the stationary market without wanting to offer them online. So since we were pioneers of home design, we had to accordingly explain a lot. We never wanted to be a shop of cheap further sale, but a specialist dealer using the modern medium internet. The manufacturers understood it eventually.
And then to start was also rather hard. We worked six days a week, sometimes until midnight. Then there finally came the moment we decided to quit working on Saturdays. A real milestone – how happy we were! More and more orders came in, so that we employed temporary help – and that's how it went on.
10 years, double-digit growth every year, new employees every year, an assortment of more than 12,000 items, thousands of customers, orders from all over the world – did you expect this in the moment you founded Connox?
Thilo: No, of course not. In retrospect it is really crazy!
Kristian: I wasn't quite so pessimistic…
What's the secret of your success in your opinion?
Thilo: The customer service had the highest priority from the beginning. We wanted to offer shopping experience to the customers and today we assist him with a service team of eight people. Fast delivery also belongs to good service for us. If the goods are in stock, our German customers will receive their parcel the next day, as long as they order before 3 pm. Since a huge part of our goods are in stock, we are able to deliver that fast in almost every case. Our customers appreciate that. We also listen to our customers when it comes to develop the shop. Regular surveys tell us what is to come.
Kristian: Another advantage in the competition world is surely our own developed shop software "EC Suite" and our IT team. We are able to implement legal changes immediately and without complications – for example in the matter of privacy. To be able to follow the fast changing demands and to remain on the most current level with our shop, is part of the secret. That's really not a matter of course.
From IT to marketing, we do almost everything inhouse, we only outsource few things. Is that also a part of the secret of success?
Thilo: Contrasting many competitors, we have IT expertise. We are able to recognize changes on the internet soon and to react because of our long-lasting experience. Moreover we were already bitten. We "dared" to cooperate with a big marketing agency five years ago. Their work almost ruined us! Online marketing errors are hardly punished. So I believe in own work. To be able to see the development of the different areas behind the scenes in one house is important to us. We are the ones who know our customers and the assortment the best.
Why did you concentrate on the own development back then?
Kristian: The shop systems available on the market in 2005 didn't suit our demands. They weren't flexible enough; the structures of the inventory control system and the available designs left much to be desired. We moreover wanted to optimize our shop for search engines already. That wasn't possible with the available systems. We were one of the first online shops with talking URLs because of our EC Suite, for example.
Thilo: We developed our EC Suite as a standard software from the beginning, so that other shops could be able to use it. This is how we remained being IT service providers. A second pillar, if you want so. The demand grew. We founded the Quillo GmbH for our IT department in order to enter the market officially with our EC Suite this year.
It sounds so, but I know how rough the life of the shop can be. Where are the challenges for you?
Thilo: One of the biggest challenges of the year is definitely the Christmas season. The sales boom before Christmas like the sales of every trade company in the B2C area. That means that we have to handle the orders many times over the usual amount. We already start to prepare that season in September by means of filling up the warehouse. At the latest in the beginning of December we have to be very flexible – and I am talking about every team and department. The customer service starts working on the weekends, the stock has to pack parcels in the four-digit range and all of the rest supports the stock colleagues. We also pack our customer's parcels at Christmas. It is a beautiful occasion to question working processes and to start the upcoming year with optimization ideas. In the end it is about this: After the Christmas sales is before the Christmas sales!
Kristian: We are continuously observed being an online shop. So to say, we present our approach on a silver tray. There are many people that look with a critical eye on every change of the law, waiting for errors. Not long ago we fought many warnings because of missing information of electric devices. Such cases taught us to focus on legal requirements and changes. Even if our customers don't like to see the energy labels on the pictures of our lamps, for example.
Thilo: Unfortunately there are also many cheaters in a high quality segment as ours. We check the trustworthiness of every customer, but there have been some negative cases in the past. Among others we had to deal with cheaters we called "Morocco-Connection", for which we delivered parcels to France, Spain and Italy. The analysis of it showed that the orders were made from Morocco. Since then, our software scans the order and delivery country automatically, sending warnings when there are suspicious missions.
We deliver to the most different countries of the world. Is there a country we don't deliver to?
Thilo: We deliver to wherever people want our products. Some places of the world are very hard to reach, of course, but nothing is impossible. We had to deliver the Globe by Le Corbusier to Gibraltar once. The military safety area was the reason why we couldn't find a forwarding company to ship the Globe with, so that we had to hire a cargobike for the last part of the journey. That solution was really demanding.
What are the aims and plans for Connox? I've been hearing a lot about internationalisation, and something about a magic number…
Thilo: That's right. First of all we want to reach the €10 million turnover mark. We have been working towards it for so long that 10 million is almost a magic number for us. There's a good chance for it. [Smiles] And we are looking for new headquarters. The growing assortment and all of the new employees take their toll. We reached our limits once again regarding the 2,400 square meters of stock surface. We are going to replace some of the shelves of the warehouse by high-level racks creating new pitches for pallets until we find a place to move to. We also hired a second warehouse.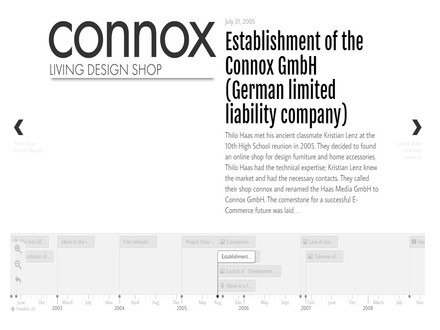 Kristian: We want to push the internationalisation this year as well. We are going to launch the French shop connox.fr this year. Further shops are going to follow in the course of the next year. A mammoth project for translators: They had their eyes wide open when we asked for a price quotation for the translation of several millions of words. [Laughs]
Thank you very much for this conversation!
Find out more about the story of our company in our new interactive chronicle or browse our company pages.
Do you have more questions to the managers? Write us an email to mitmachen@connox.de and we'll set up an interview.