Article from the 2015-01-21, of Anja Beckmann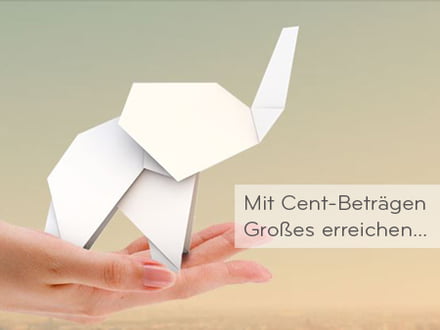 Our customers of the German online shop find the donation service of elefunds at the end of their payment process since 2012. This technology makes it possible for the customers of Connox.de to round up their electronic payment with only one clock and to donate the difference. Nearly every tenth customer used elefunds to donate. This wasn't for nothing: We were able to collect more than 10,000 Euros together since then. Thank you!
In the past two years you gave us so many positive feedback about our donation possibilities. It gives a good feeling and it doesn't need much effort to give a bit. And still: When the CEO of the elefunds GmbH Tim Wellmanns told us before Christmas that we had reached the 10,000 Euros, we became speechless. Who could have said it would be that much?
Thank you for your support and your trust!
10,000 Euros is what we were able to collect, because many of our customers helped. They decided to which organization the donation should go. Some of the foundations to be chosen are the Welthungerhilfe, the WWF and the Aktion Deutschland Hilft. The donated difference amount goes to the chosen helping organizations once a month via elefunds.
By the way, we belong to the first online shops cooperating with this start-up. We were delighted by the technology and the thought behind all of this, so that we started to try it. In the meantime, elefunds was honoured with many awards. The German Fundraising Council denominated the donation service as the best fundraising innovation. It was also listed on the Forbes List in the category of Social Entrepreneurs in 2014.
That company deserves it, in our opinion.