Article from the 2016-05-09, of Sabrina Pflüger
"Wood is like a magic material to me."
With Danish roots, her grandfather an architect and her father the successful owner of his own furniture brand (Hans Hansen), perhaps Gesa Hansen was destined to be gifted in design.
Growing up in the peaceful region of Sauerland in Germany, Hansen went on to study at the Bauhaus University in Weimar and spent some time in Japan before eventually moving to Paris. In the French capital, she worked in Jean Nouvel's studio before founding her own studio in 2009: The Hansen Family. Since then, her natural Scandinavian designs mean that Gesa Hansen is regarded as one of Germany's most successful young designers. In an interview with Connox, Hansen allows us a peek into her daily life, shares with us her personal design role-model and lets us in on her plans for the future.
What was it that drew you to become a designer?
I didn't actually want to be a designer at all, I wanted to be a graphic artist. There were always lots of design books lying around at my parents' and my uncle's houses, but I was always more fascinated by the layout than the contents! It wasn't until I went to a lecture by Axel Kufus that I understood what it means to be a designer. To me, he will always be the best role-model for what a designer should be.
After studying at the Bauhaus University in Weimar you moved to Japan for two years, and for the last several years you have been living in Paris. How have your travels and your time in Paris influenced your personal design?
In Japan I was fascinated by the tense relationship between tradition and modernity: the unbelievable commitment to detail and the importance of rituals. I find that nowadays a lot of rituals get lost in daily life. I try to bring some of them back with my furniture.
Paris is my adopted home: there is no other city where I feel as comfortable or as at home as I do here. On one hand it's the beauty of the city and on the other it's her people: I love Parisian daily rituals. And it's a very emotional city. I've learnt to be freer here - with colours, textiles and patterns.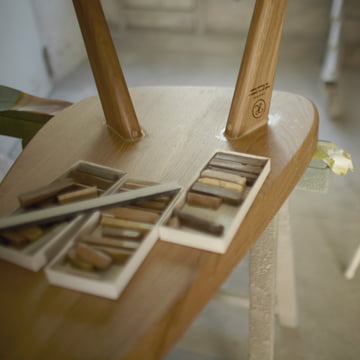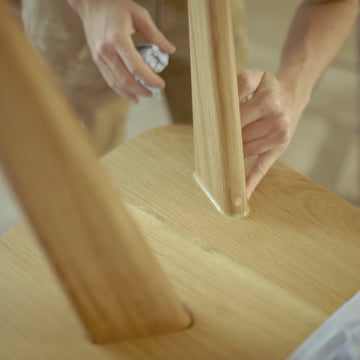 The young designer takes her inspiration from nature. It is not only colours and shapes that inspire Hansen, in fact above all it is the natural resource wood that Gesa Hansen prefers for her furniture designs.
Wood is like a magical material to me, and has been since my childhood. Back then my Grandfather built me everything that I wanted, all out of wood: ships, a doll house, tiny pieces of furniture for my cuddly toys, a little wagon... I had the feeling that everything could be made out of wood, and I still have that feeling today. I also like the fact that it's a living material, I like the way it feels, its smell and the way that it ages.
Typical Hansen? Do your designs follow a particular underlying idea?
I prefer to make subtle designs. I try to find my perfect, harmonic form and shape. It's also really important to me that furniture fulfils its actual purpose. But everything that I make is in the tradition of Scandinavian design. I think that's in my DNA.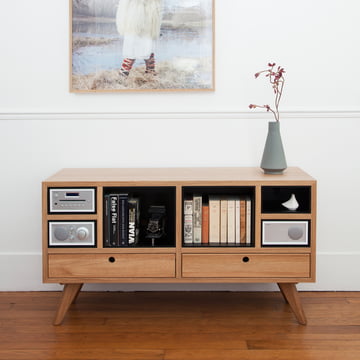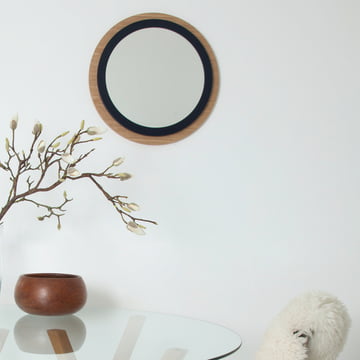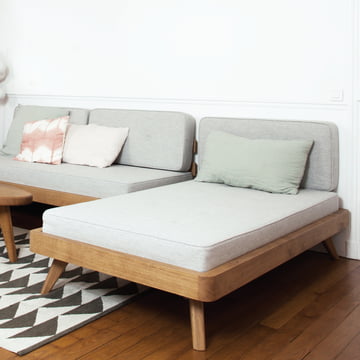 How would you describe your own home decoration style, do you have any particular pieces in your own home?
Almost all of my furnishings have a story. I have lots of old furniture from my family, pieces from my travels, prototypes and experiments or products by designer friends. In short, I have an emotional attachment to every piece.
As Co-Founder you haven't just been working on new products for your label The Hansen Family; since 2011 you've also been working with the HFB studio on interior and set design. How does your average working day look?
In the morning I take my children to Kindergarten. Then I meet Pascaline and Ai for a coffee in Restaurant 52, my husband's restaurant that I designed. Our office is only a block away. If we need materials, we visit the many showrooms in Paris to find new tiles, textiles or carpets. At the moment, Pascaline is working on a Givenchy film again, while I'm currently working on a project for Dom Perignon and Villeroy & Boch. We discuss everything with each other, but with every project one of us takes the wheel.
What are your plans and dreams for the future?
I will probably be designing my first hotel project this year. If it all works out, that's going to be unbelievable. And of course I have loved Vitra and Artek since I was very young. Working for one of those companies would be a dream come true.
Further Reading
Products designed by Gesa Hansen
"Design is a Family Matter: Gesa, Hans and the Hansen Family" - Article
Elle Decoration Newcomer of the Year 2012
Products by The Hansen Family brand