Article from the 2015-11-06, of Sabrina Pflüger
"We're not creating what we wouldn't like to own"
Snug.Studio represents lovingly designed accessories. The design group was awarded for their design of the snug.vase with the prestigious German design award 2016 shortly. Reason enough for us to introduce the creative minds behind Snug in the design interview.
SNUG is a Studio for design based in Hanover. But who exactly hides behind the design of the popular home accessories?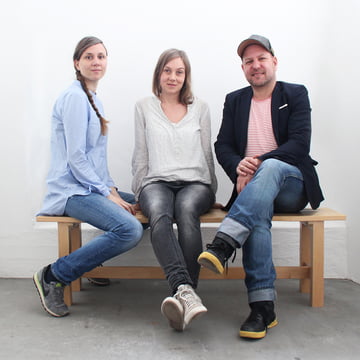 SNUG.STUDIO includes Berit Lüdecke, Kerstin Reilemann and Heiko Büttner. We all have a design background: Berit as an architect, Kerstin as interior designer and Heiko as a furniture developer. Thereby we have founded snug twosome in 2009 and Heiko came to us in this year. Bettina and Samirah also help us for shipping processes and order processings.
How did the name Snug [Snʌg] come to your minds and what does it mean?
Snug is English and means as much as homely and comfortable. Originally, the word derived from the Swedish term 'snygg', which can be translated as neat, cute or sweet. We German relate comfort and love to Scandinavian design with Snug.
All started with a DIY portal and a blog account - now your home accessories and papeterie products can be found in shops all over the world. Does your design follow a particular philosophy?
Actually we have made our products ourselves at an early stage. However, the demand was great and we had to rethink the management fast and find manufacturers for our designs. Meanwhile, we cooperate with several workshops and printers in Germany and have customers all over the world.
Our design results from our gut feelings. We're not creating what we wouldn't like to posses. Thereby, we follow no trends, but develop concepts that are long-lasting and classic, plain and once in a while with a special highlight.
What things and places inspire you and how does a normal working day for you look like?
We find inspiration everywhere. We always keep an eye opened for new ideas. Probably something will be crossing our path soon again. We would prefer designing throughout the day and surround ourselves with beautiful things. But behind the scenes, there are of course much organisational and administrative tasks to do. A major challenge that we are working at every day is connecting it all.
Recently, you have been nominated for the German design award with the Snug.Vase and won. Congratulations on this way! What inspired you to design of the folding vase?
The prize is a great honor for us and we are very happy as well! The idea was to develop a vase which wouldn't break on the shipping route. As a lightweight and strong materials, cardboard was the best choice. The customer is responsible for the water, using a bottle or a water glass, hiding under the folding vase.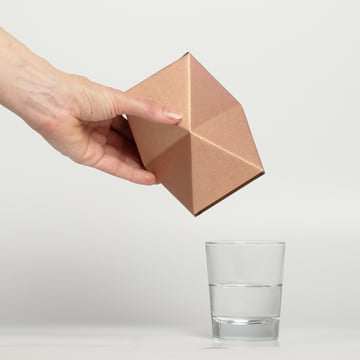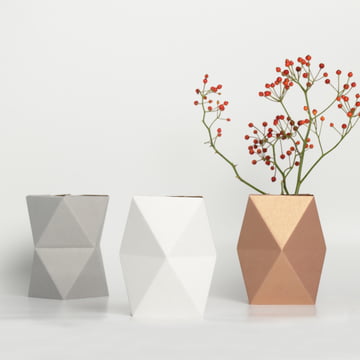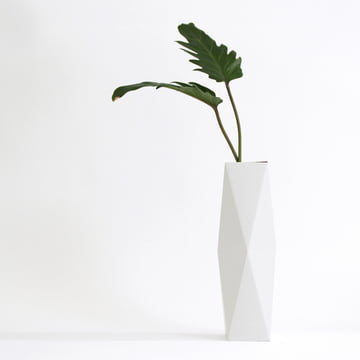 It is clear that you like to work with paper, by looking closer at your designs. Why?
Paper and cardboard offer a variety of options. 3-dimensional objects appear by simple folds, which then don't look like paper anymore. It was the same with our vase. We play with the effect of the materials. Cardboard is able to look like porcelain, stone or metal, depending on the choice of colours.
You offer a glimpse into your own 4 walls sometimes on your
Instagram profile. How would you get your personal furnishing style described and which piece of furniture you couldn't do without currently?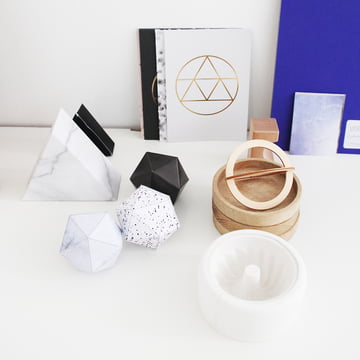 Hm, we don't have a specific style. Whether the bulk waste we found or designer's pieces, everything that is well compatible, is combined by us.
We consider our home as a test area for new ideas. So we quickly realize that our products work or have an effect, as we have imagined it to.
The piece of furniture we currently cannot do without is the Around table by Muuto . The table is our all-round talent at the moment. Whether as a coffee table, toy kitchen, test surface for Toy cars and the Brio railway.
Topic favourite piece of furniture. Could you imagine yourself even designing pieces of furniture in the future?
How do people say? "Never say never...". Once the Muse kisses us, there perhaps might also be a SNUG piece of furniture.
Thank you very much for the interview. We are excited and looking forward to many new designs.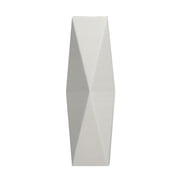 Snug.Studio - snug.vase in our shop
Click the button to enter our Home Design Shop.
View now!