Article from the 2016-05-17, of Caren Schwenke
"I am the first one to see the new products when they arrive."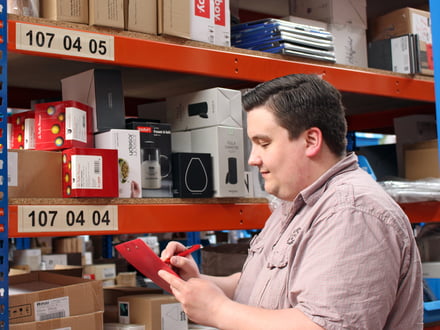 There are now more than 80 people working behind the scenes of Connox's many international websites. We busy ourselves with designer pieces, seek out the most beautiful pieces for our customers, collect all the details and images for the product page, send out newsletters, take care of your questions and pack parcels. Today we will show you who views the new products and takes care of logistics. Philipp Tiedemann from our warehouse answers our questions about his daily life at Connox, tells us a little about himself and shows us his favourite products from our shop.
Interview with Philipp Tiedemann, 28, Warehouse:
Tell me, Philipp: Are you the kind to wait patiently for the lift or will you already be halfway up the stairs by the time the lift has arrived?
If I've got a meeting or appointment, I'll take the stairs. I like to be punctual and hate being late. Otherwise though I've got the patience to wait for the lift.
How did you first come to Connox?
My former house mate, who still helps out here from time to time, brought me to Connox in Summer 2013 - I've worked here ever since. I've been working full-time in the warehouse for almost two years now, having originally started in a temporary position. I pretty much stumbled into my job [laughs].
What does a working day look like for you?
My working day in goods-in starts in the morning with the receipt of our newly delivered goods. After unloading them we unpack them and check that everything is there and whether there's an damage. Next, we input the delivery into our ECS [Editors note: our content management system, developed in-house], which updates the website so that customers know that the item is available in-stock. Finally, we load the goods into the warehouse and put them on their various shelves.
What are your duties?
I make sure that the goods-in process runs smoothly. I work with our student helpers to show them the ropes and place them in the various areas of the goods-in department as necessary. You'll find me all over the warehouse in the various working processes, I'll be there with help and advice for anyone who needs it. Mainly though I am responsible for problems with the wares, for example if we've received a wrong or damaged order.
What is it that you love about working at Connox?
The colleagues were the biggest factor for me when I took up the job here at Connox. Apart from that, I love to see how the company is growing and developing and to be a part of that journey. I also like how flexible and varied the job is - there are new challenges every day. It's exciting to work with the different materials and colour tones. There are always questions like, "What type of wood is that?" or, "Is it really red?" because 'red' in the design world is never the same! Above all: with the team in the warehouse work is simply fun!
Do you have a favourite task?
Keeping our student helpers busy! [Laughs.] Apart from that I particularly like working with our new products - that's the most varied part of my job. The standard brands in stock are more routine. And solving logistic problems is fun! Above all at the moment we're finding a lot of challenges with logistics: the number of products we stock is growing enormously. Three years ago we had one person who dealt with shipping and returns, now we have around two colleagues working at every station.
Are you an interior design fanatic?
[Laughs.] Nah, not really. When I first started, I wasn't that interested in the products themselves, but working with them and being at Connox has sparked my curiosity - now I want to know what is in the boxes, what the items look like and how they would look inside my own four walls.
What did you want to be when you were a child?
Hm, I can't remember having a childhood dream job, but as a teenager I wanted to be a lawyer. I tried it for a couple of semesters, but then decided I wanted to do something more practical after all - something more connected to reality.
How do you spend your evenings after leaving work?
Do I ever leave work? [Grins.] First off I enjoy a refreshing drink with my colleagues and then I enjoy cosy evenings in - I like watching the football or a film. One of my new favourites is The Hateful Eight by Tarantino.
Thanks for chatting to us, Philipp! Show us a few of your favourite products from the shop to round things off.