Article from the 2015-07-09, of Anja Beckmann
"Enjoying what I am allowed to do here encourages me."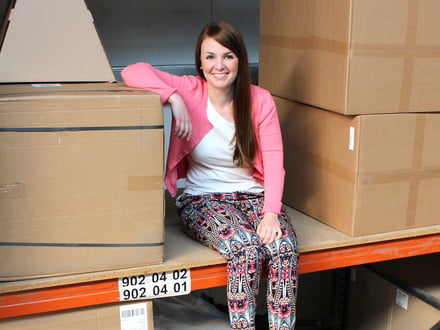 46 people are meanwhile behind connox.de. We concentrate on design objects, search the most beautiful ones for you, place them online, send the newsletter, answer your questions and pack your parcels. For you to get to know all of us a bit more and for a little glimpse behind the shop-gates, we will present someone of us from time to time from now on. Marketing team leader Isabell begins.
Interview with Isabell Waldmann, 28 years, marketing team leader:
Isabell, tell me: Are you the kind of person that patiently waits for the elevator to come or do you take the staircase from time to time?
The staircase by all means!
Since when are you part of Connox?
I work for Connox since July of 2008 and I started as an apprentice for marketing communication – wow, it's just this month I am quasi able to celebrate my seventh year here! Sometimes it is hard to believe how fast the time passed. I was the first apprentice here, we were five employees apart from the managers back then.
That's a long time… You are the team leader of the marketing department today. How did your area of responsibility change in the meantime and which are your main duties today?
I was able to get to know all of the duties of the company because of my apprenticeship and because we were only seven people when I started to work here. However, my main area has always been marketing. I studied to become business administrator in the meantime and became trainer. So my apprentices are part of my scope of duties as well as sending the newsletter and the print marketing.
How would you describe a typical working day of yours using few words?
It definitely ends too fast. I a generally communicating with colleagues, sitting a lot of time in meetings and instructing the apprentices. I prepare the newsletter two to three times a week. Apart from that the typical working day doesn't exist for me. Every day of mine looks different because of the different projects I work at.
What's your favourite duty at Connox?
I think it is the catalogue. We edit a catalogue with the novelties of design fairs two times a year. It takes a lot of work until the catalogue is finished, but you are able to hold something in your hands in the end. That's such a good feeling!
Did you always want to be a marketing communication expert?
Nope, I didn't know what to do after my high school graduation. So I made some trainings and realized how much I liked marketing.
What was the last thing that made you laugh at work?
I think the photo shooting for this picture. I could only climb the shelf with a ladder. After the picture was taken, my colleagues wanted to go back to the office, forgetting to bring me back the ladder. [She laughs]
What encourages you?
Going to work with a smile. Enjoying what I am allowed to do here encourages me.
Have you got some personal aims or special interests?
Oh yes, I am going to get married this October! My newsletter receivers shouldn't wonder about getting the E-Mails from Isabell Kleina instead of Isabell Waldmann from then on. [She smiles] The preparations are filling up my leisure time at the moment. But I am happy about it! My family, my friends and my godchild are also important to me. I spend a lot of time with them and I like to drive away at the weekends. Weekend-trips are like the small holidays of my working life.
How do you live at home – is everything furnished with Connox products?
Not that much as you might think. I like it rather comfortable, I like the Shabby Chic and the rural styles. At home there is much wood and there are decent colours like beige, grey and brown. Some other furniture pieces and accessories come from Connox, of course – like the Vitra Panton Chair or the Norm 69 by Normann Copenhagen.
Please add some of your favourite products of the shop for us.