Article from the 2015-10-09, of Anja Beckmann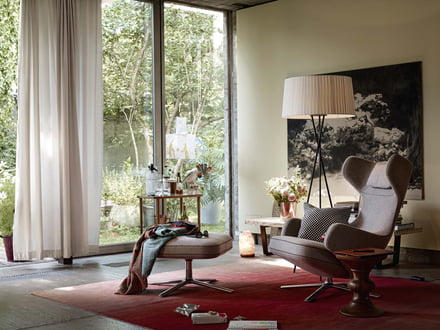 We can no longer deny that the summer is over. Most of us go to work in the dark. Rustling leaves, colorful leaves and a cloud-covered skies remind us every day that the comfortable time of year has started. Speaking of comfort: Come on in out of the cold and down on the sofa! Autumn gives us permission to pull us back into the cosy cave called home. We show you how to increase autumnal atmosphere!
Home textiles won't only warm cold feet in this season, but they also warm our hearts. The graphic patterns and high-quality materials are the reason why modern rugs and pillows have nothing in common with the dust catchers of the past anymore. Instead, they add decorative accents to your home - whether being minimalist or rustic. Hang a blanket in autumn colors over the back of a simple sofa, drap one or two cushion on an armchair. Just a few simple steps will completely change the impression of a room.
You will also increase a homely atmosphere with oil lamps or lanterns on the windowsill. Candles in different shapes and colours also grant comfort and they look gorgeous on tables and every other piece of furniture. Place them, for example, along the wall in the corridor, next to tables or chests of drawers or up on stairs. A few chestnuts surrounding them - finished! Look for a place where nobody will accidentally knock them over.
The scent of tea - Rooibos, Sea buckthorn or Elderflower - encourages comfortable feelings. Serve the hot drink in beautiful cups and with homemade pastry - or with the first almond biscuits of the year. Autumn does not stop outside of the bedroom. Soft cotton bed linen replaces the light summer bedding. Snuggle in your bed with a large water bottle in the evening and offer yourself a quiet hour or two with your favourite book.
By the way: When it's time for a new blanket for you, then take one of real sheep's wool. Although relatively inexpensive, rugs from sheeps are warm, temperature-regulating and soft. Blankets of lambswool are softer still, got from the first shearing of the sheeps. An example of this is the
Tint Plaid by Normann Copenhagen.
Here we go: Bring autumn warmth into your home!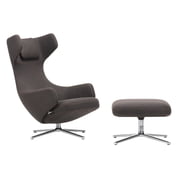 Vitra - Grand Repos Armchair + Ottoman in our shop
Click the button to enter our Home Design Shop.
View now!