Article from the 2016-06-22, of Anja Beckmann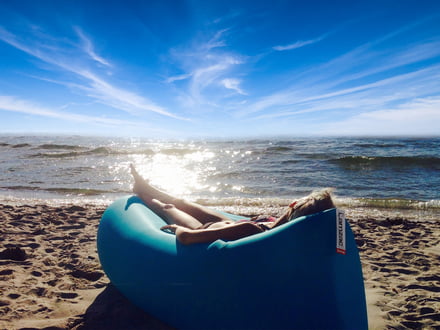 School is out and the sun is here: With the start of the holiday season, you can begin to get in the holiday mood. Who doesn't sit in their office with the fan's cool breeze blowing in their face, dreaming about relaxing on the beach, cooling off in the sea and enjoying a nice picnic. What should you definitely not forget to make your dream beach holiday come true? We'll show you! A review of beach accessories and the must-haves of the summer season 2016
Stable and reliable sand and sun protection, colorful beach towels with corner and pillow pockets, or a comfortable air sofa - the manufacturers Terra Nation, Y-Ply and Fatboy offer functional and durable beach equipment which is easy to set up, compact and simple to take with you on the go. Intensive market research, methodical testing and careful manufacturing ensure that these products withstand any environmental conditions you may have at the beach – constant wind, salty air, intensive sunshine, humidity or grating against the sand. So you will be able to use your beach accessories on your next holiday, and the holiday after that.
And what would a day at the beach be without a delicious picnic!
Sigg
and
Joseph Joseph
guarantee to keep your drinks cool and your snacks fresh. These are the top 9 products chosen for you by the Connox editors - click on the image to proceed to the product page:
Discover many more of our summer hits for your beach holiday in the Connox design shop.