Article from the 2015-11-17, of Guest author
Rogues with pomegranate jely & chocolate glaze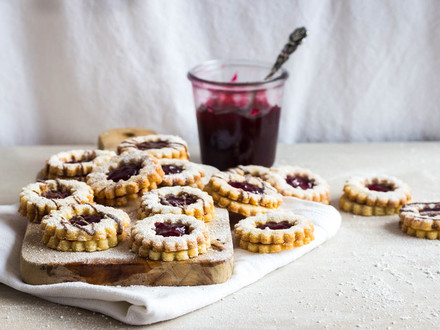 Christmas time - the time of peace, retreat and contemplation. It becomes colder, ideally already the first snow flakes fall, the cities glitter and sparkle in the glow of Christmas and if you survived the gift shopping Odyssey, you can warm up again with a glass of mulled wine or hot chocolate. And as if that's not enough, the advent season flooded us almost with the most seductive delights.
Now whether cookies, baked apples or burnt punch, hardly a delicacy which I can pass in the advent season without becoming weak. My absolute favorites are the Christmas cookies, be it cinnamon stars, vanilla cookies or gingerbread, I'm not picky at all. They must mainly be tasty, just like this recipe, that my grandma always used to bake for us. Rogues are an absolute classic and very desired with homemade pomegranate jelly.
For the Garnet (approx. 400 ml) of apple jelly:
2½-3 pomegranates
125 gelling sugar 3-1
1 cinnamon stick
2 cloves
1) Cut the pomegranates in a half and squeeze out the juice. measure 300 ml of juice and add it with the sugar, the cinnamon and the cloves in a pot. Simmer for 10 minutes. Then boil and let it bubbling for 5-7 minutes. Make gel sample.
2) Add the jelly into a medium-sized, hot rinsed jar.
The pictures represent the mix-it bowl from Rig-Tig by Stelton, the Sarjaton Bowl from Iittala, the kitchen scale by Remember and the dough pin by Hay.
For approximately 40 rogues:
350 g wheat flour
250 g cold butter
185 g sugar
100 ground almonds
1 vanilla sugar
1) Make a shortcrust pastry out of the ingredients and let it rest wrapped in foil for 1 hour in the refrigerator. Roll out the dough thinly then and cut out the cookies. Take out the middle of the cookies with a smaller ramekins of half of the cookies. Bake the cookies in the preheated oven at 175 ° C for approx. 10-12 minutes until they are lightly browned. Let them cool down.
2) After cooling, add pomegranate jelly to each a biscuit and cover with matching top. Dust with icing sugar. Melt the chocolate cover. Pour the melted chocolate with a fork like zig-zag over the cookies, for a pattern to emerge. The rogues taste best after one or more days, because they are beautifully tender and soft by the jelly.

About the author:
I'm Ineke, 25 years old and a northern light. On my blog " life is sweet!" you will find everything that takes place in my kitchen (and sometimes of what happens while I'm travelling). Healthy treats, decadent cakes, breakfast, quick lunch or lavish Sunday meals, Christmas baking, or gifts from the kitchen - there's something suitable for each one. I take pictures and travel with passion and it my studies allow it, I like to run in the forest in addition to cooking.