Article from the 2017-06-03, of Anja Beckmann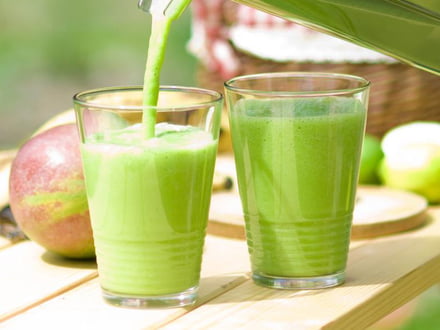 A Smoothie is the trendiest beverage of the year. No surprise at all: it is healthy, delicious and quickly made. Cutting fruits and vegetables, blending all of it – and all done is your vitamin bomb! Even Connox has the smoothie fever: again and again, I see colleagues of mine with a colourful fruit mix. The light snack allays one's little hunger and gives immediately power for working. Use the huge variety of salad and vegetables of the current late summer season! In solely 5 simple steps, we lead you to create your own creamy and fruity green smoothie.
Green Smoothies: the secret behind the Power Drink
The green colour of the smoothies stems from the content of commonly approximately 50% of plants, giving the drink its super power. Salad, spinach, colewort, rocket and co. belong to the most nutrient-rich groceries on this planet. These contain many vitamins, minerals, trace elements and phytochemical, so-called vital substances. Taking care of a properly functioning body. Vitamins boost our immune defence and take an active part in over 100.000 metabolism processes.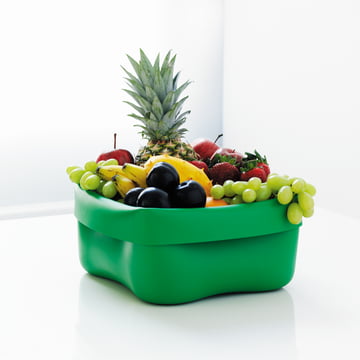 Minerals and trace elements regulate vital functions, for example the human water balance, working muscles as well as functions of nerves. With one green smoothie consisting of approximately 125 up to 250 grams plant green we often consume a way higher amount of vital substances as we do with all other meals in the course of the day!
Why Connox loves green Smoothies:
They are delicious!
They are easily prepared in ten minutes.
They offer a huge amount of healthy vitamins and minerals. Since smoothies are not heated, vitamins and minerals will not be lost during this process.
When chopped, we can consume all healthy and essential nutrients in the most optimal way.
They quickly provide energy in the morning and prevent tiredness after lunch break.
We can give free rein to our creativity while preparing – there are enough possibilities with fruits, salads and vegetables!
They taste great today and will even taste great the day after tomorrow.
They are very beneficial for a great body.
Five Steps for the trendy drink
The optimal smoothie formula is: 2 cups of greens + 2 cups of liquid + 2-3 cups of fresh fruit.
1st Step: Choose basic Fruits
Basic fruits take care of a creamy consistency and enough sweetness of your smoothie. For avoiding a too watery smoothie, spare water-rich fruits like watermelon, grapes and oranges as basic fruits. Due to size, choose one or two fruits.
Possible fruits: banana, pear, apple, papaya, mango or peach.
2nd Step: Choose basic liquid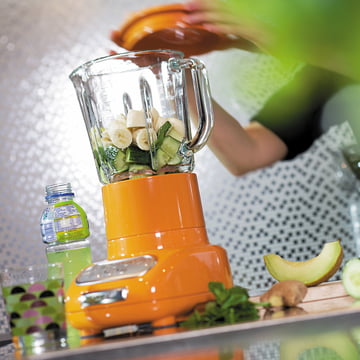 Choose a liquid. It avoids that the smoothie gets too thick because of the fruits and vegetables and supports the chopping process of the blender. 150 up to 250 ml of liquid are enough. For losing some weight, better choose water as the basic liquid. No worries, fruits and vegetables provide already enough taste!
Possible liquids: water, coconut water, fruit juice, milk or nut milk.
3rd Step: Choose greens
The 3rd component of the smoothie is greens. Again, don't worry, despite of salad and vegetables, the green smoothie keeps its pleasing taste. The chosen fruits provide enough sweetness to overtrump the bitterness of greens. Who doesn't like spinach, rocket & Co, green smoothies are the ideal possibility to consume all minerals and trace elements anyway. The optimal mix consists of 50 percent of fruits and 50 percent of greens. If a mix with 50 percent greens is still too bitter, try a mix of 40:60. Approach to your own optimal mix!
Possible greens: spinach, dandelion, salads, colewort, wild herbs or rocket.
4th Step: Mix it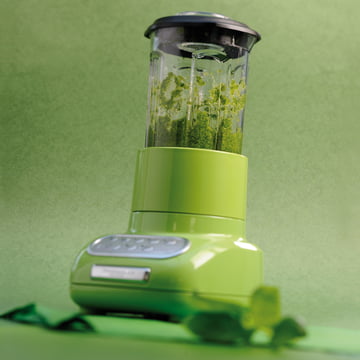 Clean the fruit and remove the stem, bloom and all non-eatable parts. Clean the greens and let it drain. Chopping all ingredients beforehand makes blending easier for the mixer. First, put the fruit in the blender, add liquid and purée everything first on a low level before switching to high level. As soon as there is enough space add the greens and keep on puréeing until a creamy mixture is formed. Instead of using a high-performance mixer, a high container and a hand blender can be used alternatively.
5th Step: Refining the taste
Whenever a creamy consistency is achieved, you can refine your smoothie with different fruits, superfoods and further ingredients. Basic fruits for redefining should be used at a ratio of 2:1 for keeping the consistency up. Finally, blend everything once more for 30 up to 50 seconds - et voilà, your smoothie is complete!
Possible Ingredients for refining: Strawberries, raspberries and other berries, grapes, orange, watermelon, lemon, kiwi, vanilla bean, cloves, cinnamon or dried fruits as well as superfoods such as raw cocoa, sea algae, chia and flax seeds.
As you can see, making green smoothies on your own isn't that hard. Mix your own vitamin cocktail for breakfast or lunch! Bianco and KitchenAid offer high-performance mixer but also high-performance hand blenders with which you can chop your vegetables and fruits chop for your smoothie in the blink of an eye. With our waterproof Drinking bottles you can transport your smoothie trouble-free to work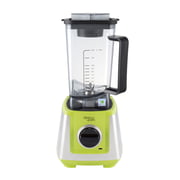 Bianco in our shop
Click the button to enter our Home Design Shop.
View now!
Apropos: trend hobby of the year 2015 is window gardening. Grow your own herbs and vegetable plants for your smoothies. Find
all products for gardening without having a garden
!