Article from the 2015-10-19, of Anja Beckmann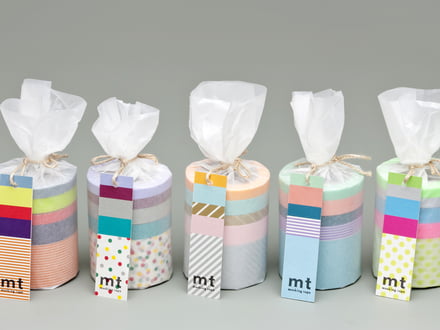 Originally masking tapes were just a way of covering bars and wall areas while painting and lacquering. But the rice papers develop to become all-round tapes for tinkering and decorating in recent years. DIY enthusiasts and hobbyists have discovered many possibilities of usage for the tapes and realized them for us. Today, there are masking tape in various colors, with colorful patterns and in different compositions. We want to show you how diverse the classic of The Japanese manufacturer Kamoi Kakoshi is and asked three bloggers to unleash their creativity. Look for yourself!
The history of Masking Tape began in 1923: Kamoi Kokashi was founded. The Japanese manufacturer specializes in the production of masking tape from the traditional "paper of Japan" - a paper, which is made by hand from Asian shrubs. Since the natural paper has excellent properties, for example it can be removed without leaving any traces, Kamoi Kokashi quickly became a popular supplier of crepe paper. 2006, lovers of the delicate tapes used them for the first time for the decoration of a book. The manufacturer became curious about the many other uses and was convinced. He then created some tapes in different colours. Masking Tape captured the whole world from then on. Papers, walls, furniture, floors and all the other places of the world were able to be decorated from then on. And it still sticks, it can be removed without leaving any traces and it is writable. Sarah, Daniela and Jenny started their own projects with Masking Tape by Connox.
Birthday cards with colorful "happy birthday" lettering
Sarah of the blog Robin decided to work with the Masking Tape 10p light coluor and made a colorful birthday card. With a cutter, she cut the outlines of "Happy" and "Birthday" out of cardboard. She also adhered colourful stripes of a masking tape on a white piece of paper. On top of each other, there emerged a writing with shiny colours. We are thrilled!
Find the instructions here. [German page]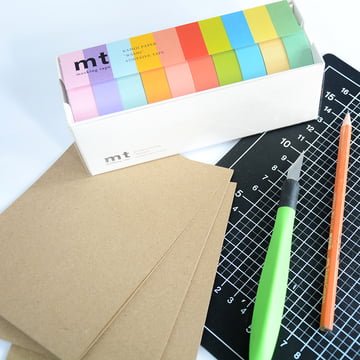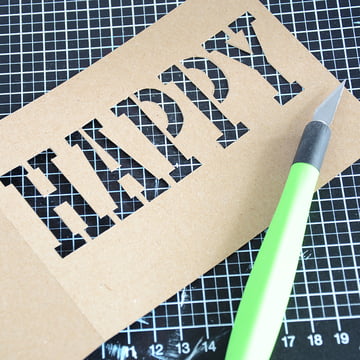 Mirror tiles with retro-look
Daniela found her kitchen tiles boring. On her blog
Gingered things she explains how she brings the sun into her kitchen with apricot masking tapes. She opted for the
Casa basic
version. Cover half of the tile, fix it with a ruler and cut off the rest with a cutter - ready! With little effort and material you can add a completely new look to your tiles. And if you don't like it, the masking tape can be easily removed and replaced. Try it out!
Find the instructions.
[German page]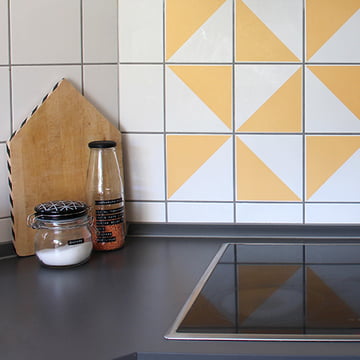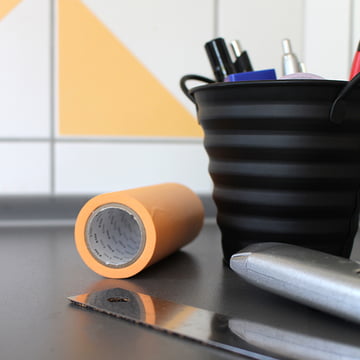 A graphic wall tattoo in the dining room
Jenny of Make it Boho thought her dining room wall was too bare. With a roll of a 10 p dark color tape from Masking Tape she designed a graphic pattern: a symmetrical mountain landscape. Adhered somethng wrongly? It doesn't matter, just remove the tape and try again! The pattern can be extended with various other bands. The coloured masking tape is a nice alternative to painting walls and adhering wall tattoos at them Especially for the children's room. Tinker together with your children.
FInd the instructions. [German page]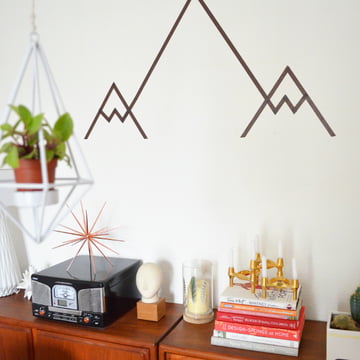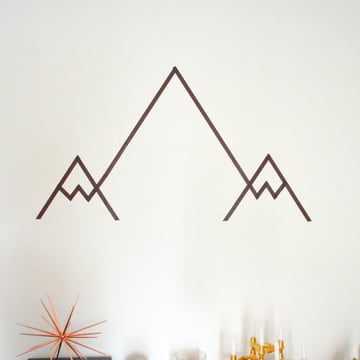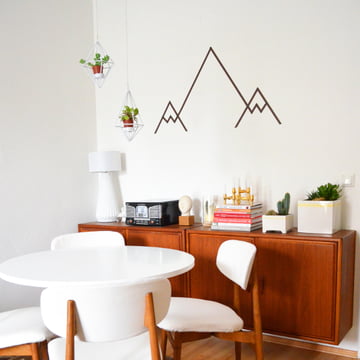 Do you like the ideas? The instructions are on the respective blogs, Masking Tape is available in all variations, shapes and colors in the shop. Have fun tinkering, experimenting and gluing!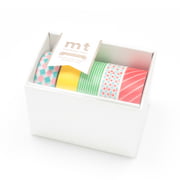 MT - Masking Tape in our shop
Click the button to enter our Home Design Shop.
View now!