Article from the 2015-05-13, of Anja Beckmann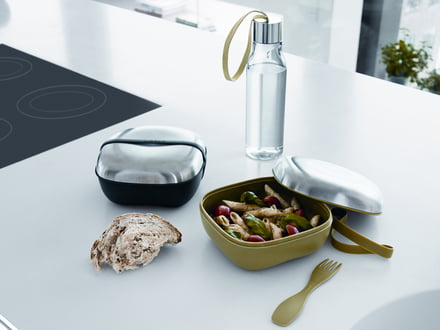 Mum is the best chef. Well, maybe not only her, but definitively the self-cooked meals are. Food of cantinas is heavy and becomes monotonous with time. Fast-food is only special, if it remains rare. And, being true to ourselves, ready-meals have never been really tasty. Do you believe cooking is time-consuming? Is it difficult to transport fresh vegetables? You are wrong.
There are many possibilities of cooking tasty and varied meals to take with you to work, without much effort. If you cook at home at night, let a little portion for the next day. If not, there are numerous tasty receipts made in only a few minutes. It is important to renounce fried and fatty meals. They will keep you tired and slow, damping your concentration after lunchtime. Instead, you should eat some cooked and steamed vegetables and fruits.
Ideas & containers for warm and cold meals
What do you think of a pasta salad? It is easily prepared at night and it will fill you up the next day, without being heavy at all. Salad is easily transported in the lunchbox by Eva Solo. The modern design of the box keeps the primitive breadbox-appeal away. This is how a separate place isn't necessary anymore. Fast prepared, easy transported and nutritive – perfectly adapted for lunchtime – are chicken-wraps, fresh bread and tomatoes with a tasty dip, hearty muffins, small quiches with vegetables and wholegrain sandwiches with fresh salad.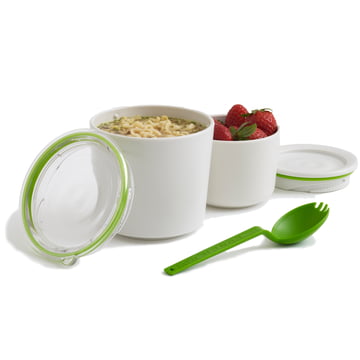 Noodles with tomato sauce are also easy to be prepared the night before they are transported and eaten. Use the suitable Lunch Pot by Black + Blum therefore. It is made of two differently sized containers, which are separately airtight closed. A soup is also fast prepared: Cook some vegetables, add bouillon, puree it all, add some spices – ready! Place the soup n the big container, the croutons in the small one, in order to take both things safely to the office. Warm your meal directly inside of the lunch pot - it is microwave-safe. If you wish to eat your meal outside: there is a "spork" included in the delivery package – it is a mix of fork and spoon.
Further meals, perfectly made for the lunch pot:
Quark and fruits
Fresh salad and dressing
Baked potato and curd cheese with herbs
Rice and a light sauce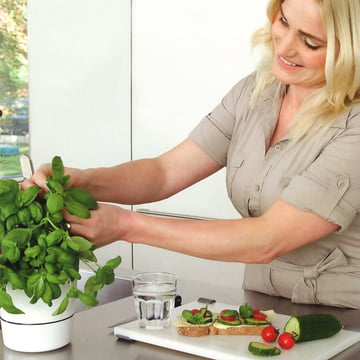 All the meals will be ready in 20 to 30 minutes. It is important to separe the different parts of the meals if you wish to keep them tasty until lunchtime of the following day after the preparation. Dressing, croutons and similar small things are also wonderfully and air-tightly transported in the To Go Mini Boxes by Rosti Mepal.
On the road when lunchtime comes
If working ways get longer at summer or if you work on the road, we suggest to use the Cool Lunch container by Menu. Despite of its compact shape, it offers enough space for a small cooling pack and it is big enough to hold a small bottle with its height of 26 cm. This is how the drink, fruits and self-made sandwiches will always be safely cooled down for a long time. The practical carrying strap with the Velcro closure will fix the Cool Lunch at your backpack, the laptop bag or directly at your bicycle.
In the summer you will need cool drinks – whether on the road or in the warm office. The Hot & Cool thermos bottle by Sigg keeps your drink cold for up to 30 hours. This is granted by double walled 18/8 stainless steel walls and the innovative vacuum technology. This is how the Sigg bottles are suitable for vegetables shakes, self-made smoothies and soups. These ones remain warm during up to 24 hours – if your office hasn't got a microwave. By the way: Drink something hot at summer as well. Our body is programmed to bring all we drink and eat to the lukewarm temperature of our body. That's why cold water is warmed and hot water cooled down. Your circulation will be cooled carefully that way.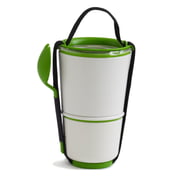 Lunch Boxes in our shop
Click the button to enter our Home Design Shop.
View now!
If you haven't got the time to go to the supermarket …
If you haven't got the time to go to the supermarket you will still be able to eat healthy things. There is a bio company in Hanover for example, which delivers boxes with vegetables and fruits you choose to your home – tasty receipts included. Such a company is surely near your place as well.
You see, it isn't that hard to live a bit healthier without much costs and time. The advantages of cooking by yourself and taking the meal to your work: You will be relaxed at lunchtime. And this one is long without the need of going to Mc Donald's and so on.