Article from the 2015-05-11, of Anja Beckmann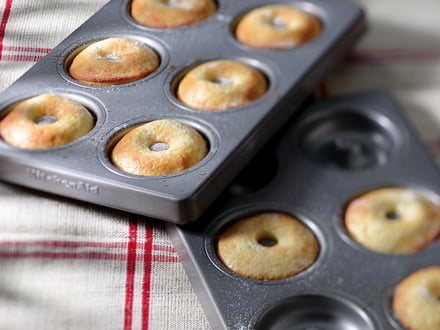 Our series 1 Product | 3 Blogs is already known. After the positive feedback of the Rig-Tig baking tins, three bloggers present the doughnut set by KitchenAid today. The pan convinces: It is easy to prepare tasty bakery – sweet and hearty. This is shown by three bloggers, who received the doughnut pan from us to be tested. The small results are very tasty in each of the forms. But look by yourself!
Yes, KitchenAid doesn't only produce the famous kitchen machines. The doughnut set consists of two baking tins for six doughnuts each one. KitchenAid produces the tins of 8 mm thick, durable steel. A non-stick coating keeps the bakery easily removable from the surface. The doughnut pan is dishwasher safe, which is practical to clean it. Ramona, Christina and Madeleine texted the doughnut pan – creating some doughnuts that will make your bakery heart melt.
Rhubarb yoghurt doughnuts with a strawberry glazing
Ramona from KochzereMoni (German blog) baked doughnuts for the first time in her blogger life with our doughnut pan. And wow, you won't know it with these small, juicy and colourful artworks! There are rhubarb yoghourt doughnuts with a strawberry glazing on the pictures. How to fill the doughnut pan evenly and how to get such a red glazing can be read on her blog. The receipt (German receipt).
Crunchy focaccia doughnuts with threefold filling
Did you ever think about baking something different than doughnuts inside of a doughnut pan? Madeleine from Backstübchen (German blog) took the challenge. Italian food was tested because she and Flo love Italy. They decided to bake focaccia – in three variants. "Focaccia is a great sort of bread, it is easily baked and very tasty" (free translation), explained Madeleine. The classic pita bread looks exceptionally made in the doughnut pan. There is something tasty for everyone with parmesan and bacon, tomatoes and basil as well as olives and oregano! The receipt (German receipt.
Cake doughnuts
Christina from Heiß & Innig (German blog) worked for us as well. She concentrated on classic doughnuts with s hint of nutmeg and cinnamon. On top came a glazing of dark chocolate with roasted nuts – Mmmh! Christina was very surprised when she took perfectly round doughnuts out of the pan as well. And yes, as you might suspect, the mini doughnuts didn't survive for long. The receipt (German receipt).
Do you like doughnuts? Find the receipts on each blog. The doughnut pan by KitchenAid is available at the home design shop. Enjoy baking, experimenting and trying!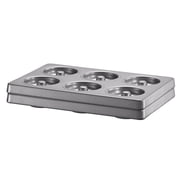 KitchenAid - Doughnut Pan in our shop
Click the button to enter our Home Design Shop.
View now!