Article from the 2015-03-18, of Anja Beckmann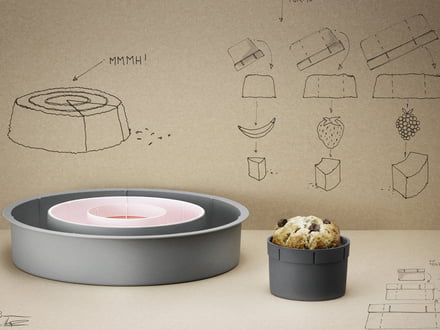 The baking tins by Rig-Tig by Stelton are able to make real artworks. Creativity won't be limited with them. We gave the unusual baking tins to three bloggers and we wondered about what they'd do with them. Look at the results!
Banana slices with spring feelings
Renate from Gutes für Leib & Seele (German blog. Translated name: Good things for body and soul) formed the popular classic banana slices with the baking tins. Herefore she placed all three Rig-Tig baking tins inside of each other and one third of the whole dough in the middle form. The rest of the dough she painted with food coloring for the interior and exterior forms. This is how all of the dough was baked together, resulting in something tasty and colorful. The Banana Square is very good with a hint of rosé! Here you'll find the recipe! (in German only)
Sunday cake – three in one!
Kirsten from Photography & More by Kikilotta (German Blog) made a colorful Sunday cake. Since her son wanted a cake with nuts, her husband has a hazelnut allergy but loves chocolate cake and she herself wanted a spelt-apple pie, she baked a nut-chocolate-spelt-apple pie. Therefore she filled different doughs into the three tins. The result is a sweet compromise – in the real sense of the word!
A different marble cake
Tina and Denise from the German blog Blondie & Brownie also worked for us. They experimented with different tastes and made a marble cake, which is very unusual – pure, with chocolate and matcha. Cream and Easter eggs ornament the cake suiting the season. It has fixed ingredients, since every dough has the same basic dough. All the tins can bake together. This is how the Rig-Tig baking tins make a special dessert without much effort. Here is the recipe (in German).
Did you like the artworks? The receipts are on each blog, the Rig-Tig baking tin is available in our shop. Enjoy baking, experimenting and enjoying the meal!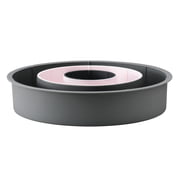 Rig-Tig by Stelton - Baking Tins in our shop
Click the button to enter our Home Design Shop.
View now!