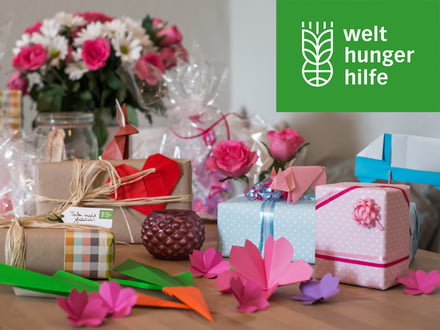 Give away some luck!
You will be able to offer double luck with a gift donation: Delight the ones you love with a personal greeting card and a self-made origami and support the worldwide work of the German Agro Action Welthungerhilfe at the same time.
This is how it works!
Order: Order the donation gift like every other product of our shop – of course the usual payment methods are available there. Moreover you will have the possibility to order a donation receipt of your donation gift's amount in the shopping cart.
Delivery: You will receive your donations package as fast as usual. In it are a greeting card with envelope, a page of origami paper, a little ribbon, a gift etiquette and folding instructions.
Now it's up to your skills and creativity! You will be able to start preparing your present as soon as you received the parcel. Fold the origami in order to place it at a gift with a labelled etiquette and the ribbon. You can also offer the origami with the greeting card as single gift or let the Japanese art of paper folding up to the person you wish to offer something, but don't forget to give him the folding instructions as well! By the way: Each origami has a special level of difficulty, reaching from easy over medium to hard according to the selected motive.
Big Effect
Not only family, friends and relatives will love this original gift, but especially the people that need immediate aid are grateful. The German Agro Action Welthungerhilfe guarantees that your donation ends up where people need it the most. That's the reason why the origami figures symbolically represent the big effect of your donation: children will learn to read and write, families are able to nourish their children and they all will have clean potable water.
Go ahead and give away some luck!
Of course it is also possible to donate directly via the online donation of the German Agro Action Welthungerhilfe.