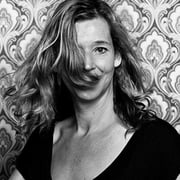 Romantic Playful Design from the Netherlands
Saskia van der Linden is a Dutch designer and illustrator who was, already in her childhood enthused by magazines from the 50s and 60s, her mother's old dolls, postcards, knick-knacks and objects from the flea markets. This enthusiasm led her to studying design at the Art Academy in Den Bosch and shapes her diverse work until today.
In her design studio in Den Bosch, she designs home accessories and creates designs for wallpapers, postcards, book covers and digital collages. Her designs are always romantic and have a nostalgic touch with a slightly kitschy note.
Another passion of the Dutch designer is the design of stage scenery. Giving her a variety of jobs for theatre festivals, stage and settings, such as for the Sesame Street.
Website by Saskia van der Linden