Carl Hansen chairs - Danish Design Classics since 1908
Since 1908 the name Carl Hansen & Søn has stood for outstanding craftsmanship from Denmark. To this day, the manufacturer from Odense continues to produce with uncompromising quality standards.
Carl Hansen combines traditional woodworking techniques with the latest technology to produce furniture of lasting value. Most of Carl Hansen & Søn's chairs and other wood products have been designed by leading Danish architects from the 1930s to the 1960s - for example by Hans J. Wegner. The design, vision and craftsmanship behind every single piece of furniture are just as important today as they were then - if not more so.
Every Carl Hansen chair is sustainably manufactured - through and through
Sustainability has played a major role in Carl Hansen & Søn's products since the company was founded. This not only means that the furniture is durable for generations. Carl Hansen & Søn also places great emphasis on environmental protection. In this respect, the traditional Danish company not only considers raw materials, but also sales, logistics and production methods.
Carl Hansen's wood comes exclusively from sustainably managed forests. All wood used is subject to the EUTR 2013 Regulation of Danish forestry legislation and applicable international certificates. The majority of the oak, beech and ash wood used by Hansen comes from Danish forests, which are managed in accordance with the principles laid down in the Danish National Forest Programme.
Carl Hansen Wishbone Chair or CH 07 Shell Chair - timeless craftsmanship
Not only the sustainable production, but also the timeless design make every Carl Hansen chair a design classic. Made from trees that have been growing for hundreds of years, the company makes chairs for generations. Carl Hansen & Søn believes that it is an expression of respect to get the best out of such valuable resources.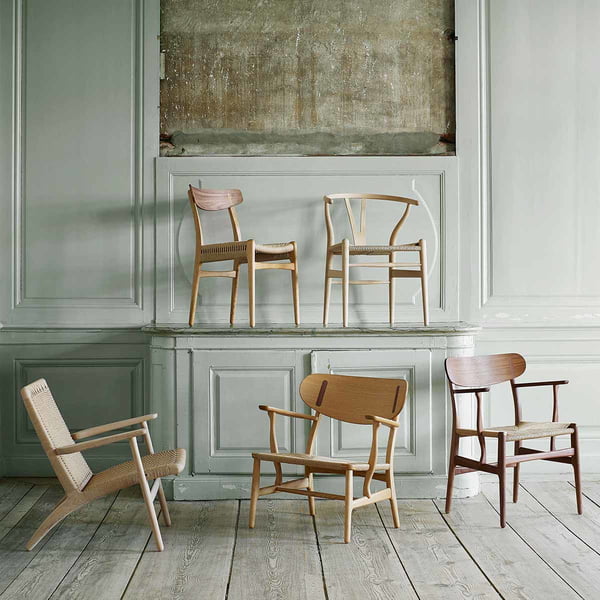 In addition to carefully selected materials, the passionate craftsmanship makes every Carl Hansen chair a unique, timeless design product. Prime examples are the Wishbone Chair and the CH 07 Shell Chair by designer Hans J. Wegner. Both chairs are characterised by a simple design and clear lines. They reflect Hans J. Wegner's continuous striving for organic simplicity, comfort and stability. Thus the pieces of furniture become more beautiful with each passing year.
All this proves: Carl Hansen furniture is furniture of value! Behind every piece of furniture is a carefully thought-out concept, high-quality materials and expert craftsmanship. Every Carl Hansen chair, every piece of furniture has its own story - the Danish manufacturer is convinced of this.
Website by Carl Hansen & Søn