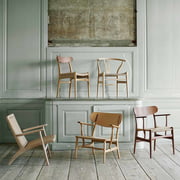 Hans J. Wegner is widely considered to be one of the leading figures in 20th century furniture design. The carpenter, architect and designer was born in 1914 and counts as co-founder of the Danish modern which strongly characterised the later following conception of interior design.
At the age of 17 he was apprenticed to a carpenter (H. F. Stahlberg) and it was at this time that he developed his first design. Three years later he moved to Copenhagen to study at the institution now known as The Royal Danish Academy of Fine Arts, School of Design but which back then went under the more modest title of The Artisan College.
In 1940 Wegner initiated a joint project with Arne Jacobsen and Erik Møller in Aarhus which involved fitting out Aarhus' town hall. It was also in 1940 that Wegner began to work with Master Carpenter Johannes Hansen, a man who played a significant role in bringing modern design to the Danish public. The then Copenhagen Industrial Art Museum (now Design Museum Denmark) purchased their first Wegner chair in 1942. Hans J. Wegner opened his own design studio in 1943, and in 1944 he designed his first China Chair in a series inspired by the Chinese Emperor's thrones.
A Danish design legend
One of the chairs in this series is what is probably Wegner's most famous work The Wishbone Chair which he designed in 1949, and which Carl Hansen & Søn have manufactured since 1950. Hans J. Wegner is regarded as one of the world's outstanding furniture designers. He was one of the motive forces behind the Danish Modern movement which did much to change people's view of furniture in the 1950s and 60s. His designs retain relevance for us today and his sense for details is a source of constant wonder.
Hans J. Wegner can be consider as a Danish design legend: the carpenter, designer and architect has received a number of prizes and recognitions. Amongst other things, he is an honorary member of The Royal Danish Academy of Fine Arts and has received an honorary doctorate from the Royal College of Art in London. He was also the first ever recipient of the Lunning Prize and received the 8th International Design Award in Osaka, Japan. His works are exhibited at major international museums including The Museum of Modern Art (MoMA) in New York and Die Neue Sammlung in Munich. Hans J. Wegner died in Denmark in January 2007.
Website by Hans J. Wegner