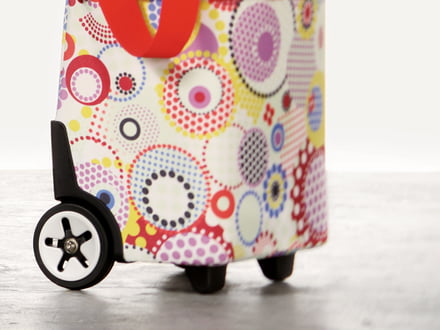 The Shopping Trolley: The Practical Alternative to the Shopping Basket
For a long time the shopping trolley was said to be outdated, which changed with urbanization. Shopping baskets and shopping bags have to be carried home by foot, as close shopping malls and pedestrian zones make shopping with a car more difficult. Meanwhile, one third of the population lives in large cities and metropolises, 42 percent in areas with medium population density. Especially in these regions the grocery cart offers a practical alternative to the classic shopping basket. In colorful designs it enjoys great popularity in all age groups. Here you will find information on what you should consider before buying a shopping cart:
1. Storage Capacity of Shopping Trolleys
2. Load Capacity: How Your Shopping Trolley Stands Steadily
3. Comfort & Flexibility
4. Materials and Cleaning
5. Design
6. Useful Features
1. Storage Capacity of Shopping Trolleys
Think about how often you go shopping and how many items your average purchase consists of. On average, a person needs a volume of 20 liters for a week's purchase. Each shopping trolley here on Connox comprises at least 40 liters. This gives you enough space to accommodate all products.
2. Load Capacity: How Your Shopping Trolley Stands Steadily
The weight of the purchase is crucial. When you buy your trolley, notice that the 10-kilogram mark is reached quickly. Your trolley should be able to carry at least this weight. The foot of your shopping trolley supports it when carrying the load.
Tip: Stow heavy items on the bottom of the shopping trolley and lighter, fragile products on the top. This ensures additional stability and prevents your shopper from falling over in the subway or train, on the bus or when pulling.
3. Comfort and Flexibility: The Shopping Cart as Everyday Help
To be able to expand the trolley is a big advantage. This way, you can store the shopping trolley easily behind a door or in the storage room. If you are shopping by car, it can be placed in the trunk. A true multitalent in terms of flexibility is the carrycruiser from reisenthel. It does not only disappear easily in the trunk of the car, but can also be used as a shopping basket or hang on the shopping cart. The citycruiser bag can even be detached from the frame and used as a backpack, which is particularly convenient for small purchases.
The right wheels of your shopping cart ensure maximum comfort. You should have a minimum distance of 50 centimeters, so that your shopping trolley does not tip over even with heavy loads. The diameter and thickness of the wheels of the trolley also play a role: The larger the wheels, the easier it will be for you when you must climb stairs with your shopping trolley. The movement on uneven terrain - for example on cobblestone streets - is also easier. In unfavorable weather conditions, large wheels guarantee additional support.
Height-adjustable handles ensure that you can adjust the trolley for your body size optimally. This reduces the required strength and prevents back problems.
4. Material and Cleaning of a Shopping Trolley
The most common materials used in shopping trolleys are nylon and plastic. This makes it weather-resistant and water-repellent. Even with an unexpected rain shower, you can conveniently do your shopping. If something leaks in the inside of your trolley, cleaning is no problem. Use a wet sponge and soap to quickly remove any dirt and unpleasant odors.
5. Shopping trolley design
Trolley design can be very different: From bright, vibrant patterns with eye-catching colors to plain, simpler designs. There is something for every taste in Connox's shopping trolley range. It is important that you like your shopping cart: Make a statement with your individual style!
6. Practical extras
Some trolleys for shopping have practical extras. With an integrated cooler compartment, frozen products can be brought home, even on hot summer days. The carrycruiser iso from reisenthel not only convinces as a shopping trolley, but also use it as a cool box in the car.
Many shopping trolley models hold several compartments ready for you in which you can store your wallet or umbrella. This way, you have all the important things for shopping at one place and make sure nothing is lost.
Shopping Trolleys in the Online Shop - Your Advantages at Connox:
Purchasing Consultancy at Connox
You want to buy a designer shopping trolley online, but need support? Please feel free to contact our customer service. We help you if you have any problems with your purchase, give recommendations and we can quickly clarify questions. Let us send you your favorite product to your home, comfortably within a few working days!