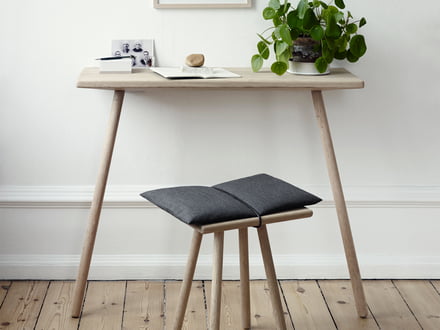 Console Tables & Wall Consoles: Design Isn't a Question of Room Size
Especially smaller rooms such as the hallway aren't always easily decorated. When there's not much space many pieces of furniture are no option. But that doesn't mean that there's no way to use the given space creatively with designer furniture. Console tables and wall consoles are space-saving alternatives to their larger counterparts. They store clothes and personal things without cluttering your entryway. Feel free to browse through our assortment of console tables and wall consoles.
Four Tips for the Perfect Small Wardrobe
Choosing the right hallway or entryway furniture is dependent on the entrance itself. There are a few general things that you should be aware of:
1. If your hallway does not have natural lighting, dark furniture should be avoided. Bright tones such as white and wood like oak are ideal. In a room with no natural lighting, the FUWL Cage Shelf - Menu by Menu is an ideal solution. Keys, letters or glasses have their own place on top. Down in the basket scarves and caps join company.
2. In a small entryway, delicate furniture is the right choice. Closed elements take the space's airiness and your freedom of movement. Tojo's Find Console has two different shelves and is made of a medium-density fibreboard with a white coating of melanin. Owing to its narrow shape it fits into small niches.
3. Make yourself a list of things to be stored in the area before setting up your small console. This way you can estimate how much storage space you need. Everything has its place and later disorder doesn't stand a chance.
4. Secret tip: folding furniture. You stand on one leg, shaking terribly and try to put on one of your shoes. A seat would be nice though it would take too much space. The solution: The Cutter Folding Seat from Skagerak. It creates space where there was none before. The seat can be put up and down to save space.
Create Storage Space with Simple Tricks
Not only in the entrance area is storage space important. In other rooms it creates order and is the basis of stylish ambience. Interested in creating storage space without wasting space for a storage closet? Then feel free to read the post "Amazing Space: 7 Tips for More Storage Space" on our home design blog.
Console Tables & Wall Consoles in the Online Shop - Your Advantages at Connox:
Purchasing Consultancy at Connox
You want to buy a designer console table or wall console online, but need support? Please feel free to contact our customer service. We help you if you have any problems with your purchase, give recommendations and we can quickly clarify questions. Let us send you your favorite product to your home, comfortably within a few working days!