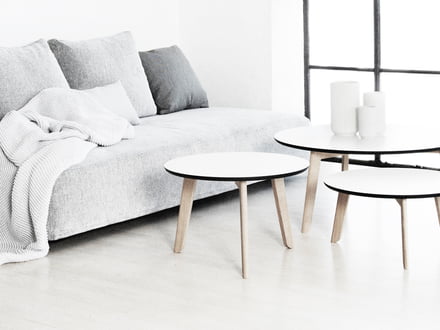 Coffee Tables: The All-Rounder for the Living Room
Coffee tables are very versatile. They are the perfect companion for a quiet evening in front of the TV and just as much a decorative presentation space for accessories of any kind. So that they fit every living situation and meet your needs, there are designer coffee tables in a wide range of varieties. The following is a list to help you select and assist you in finding your perfect coffee table!
Finding Your Design Couch Table – Things to Keep in Mind:
1. Design & Effect: Eye-Catcher or Subtle Storage Space
2. Size and Shape: Where Should Your Coffee Table Stand?
3. Material: What Should Your Coffee Table Look Like?
4. The Use: Decorative Shelf or Design Coffee Table With Added Value?
5. Combined with a Couch: Find the Matching Coffee Table for Your Sofa
6. Price: Basic or Design Icon
7. Frequently Asked Questions on Coffee Tables
1. Coffee Table Design & Effect: Eye-Catcher or Subtle Storage Space
Scandinavian, modern, playful, or industrial - which style means most to you? It looks harmonious when your design couch table matches your existing furniture in style, shape, and color. A cubic or round coffee table creates an exciting contrast and makes the room interesting. Size and position determine the effect of a table. When it comes to coffee tables, the height depends on your needs. If you use the table to eat, it should not be too low. If living room tables are close to the floor, seating furniture with low surfaces such as sofas are the right choice. If you're undecided, go for a height-adjustable designer coffee table.
2. Size and Shape: Where Should Your Coffee Table Stand?
Please note: A table that's too small appears lost in a massive couch setting, if it's too large then it might look inharmonic. In addition to the couch, the coffee table plays a central role in the living room. Tables that serve as a side table can be positioned freely. Bar carts & serving carts are ideal for changing up the space. If you're looking for modern coffee tables, you might look for square tables. A round coffee table always contributes to a comfortable ambience. Keep in mind that a round coffee table takes up more surface and movement space to work properly. Square tables make use of the space but also are less of an eye-catcher.
3. Material: What Should Your Coffee Table Look Like?
Wooden coffee tables, such as those by Muuto, are elegant basics. Especially solid wood is high-quality and a long-term investment. If you want a more rustic look for your coffee table you might be interested in dark woods, such as walnut. Teak is characterized by its intense red-brown color as well as the robust surface. Wooden coffee tables also require intensive care to keep the material in good condition.
Glass coffee tables, such as the design couch table by the design brand Vitra, are popular in modern interiors. A glass plate comes across as light and airy. Thanks to the simple elegance of the glass coffee table, it matches every furnishing style. But keep in mind that the top of glass coffee tables does have to be wiped almost every day.
Metal coffee tables score points on their robustness and are popular for their industrial style. The weight however does not make them easily moved objects. Especially on rugs, they quickly leave footprints.
Plastic coffee tables are modern. Since the material can be colored easily, they are available in many different colors. With plastic furniture watch out for sharp objects as they scratch quickly. A tip: Manufacturers such as Kartell specialize in the production of creative plastic designs.
The Use: Decorative Tray or Design Couch Table With Added Value?
Additional elements such as lighting, outdoor suitability, or additional storage under the table top make coffee tables a piece of furniture with added value. The Wire Basket by ferm Living skilfully combines the functions of table and storage basket. It is suitable for storing magazines, toys, or small parts on top of its decorative function. Complemented by one of the many table tops, it is an exciting accessory next to the couch.
Combined with a Couch: Find the Matching Coffee Table for Your Sofa
A table completes the sofa corner. A traditional coffee table, like the Bell Side Table by
ClassiCon, emphasizes modern sofa lounge areas. Uniform combinations create a harmonious image. Make sure that the manufacturer of your couch offers matching tables. These often use design features of the sofa. The
Around Coffee Table
by
Muuto
is, for example, an attractive addition to the
Restore Sofa
.
Price: Basic or Design Icon
Depending on the features and brand, the price of coffee tables varies greatly. Ferm Living and Hay have coffee tables at affordable prices with discreet shapes. The modern, linear design is suitable especially for a younger style. Normann Copenhagen, Muuto and Menu all offer medium-range prices and are well-rated thanks to simple Scandinavian design. Classics such as Vitra and Knoll occupy the upper price segment due to their traditional value.
Frequently Asked Questions on Coffee Tables
1. Why are Coffee Tables so Low?
Coffee tables usually compliment sofas, armchairs, and sofa lounge areas. So that you can comfortably reach the remote control while sitting or lying, tabletops should not be higher than the seat of the lounge furniture. Tables with a height of up to 30 centimeters are recommended for floor-level models. This gives your sofa a casual lounge look.
2. How do I Decorate a Coffee Table?
A tray of candle holders, a carafe of wine or your current favorite book: A coffee table can be decorated with anything that comes to mind. In spring and summer, colorful vases and flowers are a great idea. Learn how you can use this creative scene on our Connox Magazine. During advent and Christmas season, a wreath illuminates the table. Let your creativity run free. You can do what you like!
3. Which Lamp Fits My Coffee Table?
Hang the lamp that you like above your designer coffee table. There are no fixed rules. Flat ceiling lights ensure evenly distributed light. Low hanging lights - for example pendant lighting by manufacturers such as NUD or Flos - put the individual table into focus. Also, you don't take away any space this way, as the area above a designer coffee table isn't otherwise useable.
Design Coffee Tables Online - Your Advantages at Connox:
Do You Have Further Questions about our Coffee Tables? Discover Connox's Purchasing Consultancy!
You want to buy coffee tables online, but need support? Please feel free to contact our customer service. We help you if you have any problems with your purchase, give recommendations and we can quickly clarify questions. Let us send you your favorite product to your home, comfortably within a few working days!