Article from the 2017-01-13, of Sophie Wrede
"Hyggelig" - it's a word you'll hear often in Denmark and Norway, it means something like cozy and pleasant. And yet it is so much more. It is a snug sense of familiarity and warmth, a source of energy and balance. A philosophy for life. The Danes once again show us how happy living works. I am pleased to introduce you to my favourite Pinterest trend of 2017 and to reveal the secret ingredients of the new recipe for a cozy home.
Pinterest has published the home trends for the coming year. 2017 is destined to be filled with "hygge" (rhymes with sugar) - a feeling of cosiness and an integral part of the Danish way of life. The word and the philosophy have also taken over the rest of the world - the social media posts on the topic are increasing, too. Pins with the hashtag #hygge have seen a whopping 285% increase compared to the previous year.
The New Danish Lifestyle
The word hygge doesn't have a simple English translation. I think it is more of a general feeling of contentment that we associate with the word. The big and small pleasures and joys of everyday life. Relaxing with friends, enjoying good food and sharing a cozy evening together. Warm candle light, soft music and interesting conversation work together to round off the feeling of snugness. Quite simply, a lifestyle that makes me feel relaxed and happy!
Just like the Danes, I also try to take time for reflection, to slow down and create a cozy, feel-good atmosphere: There's plenty of time for happiness and for the simple things in life!
The Philosophy of Feeling Good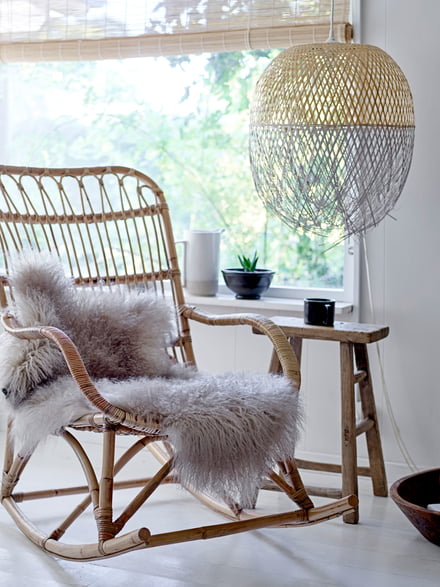 Our living environment can have a major impact on our inner attitude. That is why it is important that we feel happy when we come home. Only then can we really feel and enjoy the effect of hygge. With fluffy woollen rugs, big seat cushions, cozy knitted blankets and accessories such as candles and cushions, it is easy to create a comfortable ambience. That's how to turn your home into an oasis of well-being that you'll look forward to spending time in.
Hygge reaches us in moments of relaxation and reflection. Togetherness is the central point of the philosophy. It's about a warm, relaxed and harmonious atmosphere, where everyone is welcome. Make your home hyggelig and invite your friends and family round. This is the perfect counterbalance to a stressful day at work. And it's not without reason that Denmark is home to the world's happiest people.
Hygge and Danish design are closely rooted together. ferm Living create hyggelig designs in numerous cushions and home textiles.
Chic and cozy: Designer furniture and home accessories brands, such as Hay or Bloomingville show how diverse and creative Scandinavian design can be. Natural materials and soft shades of cream, beige and grey feel right at home. You can also bring a piece of Denmark into your home with wooden designs by Skagerak.
Freedom, Lightness, Socialising - Hygge in Summertime
We don't need autumn storms or sleet to feel Hygge. The summer is ideal for hyggelig moments: Being out in the open air, lounging with the family on a picnic blanket- homemade snacks in your bag, a barbecue evening with friends, balmy evenings on the terrace or the balcony, enjoying a glass of wine while watching the sunset... When the air is warm and the days are long, when we are awoken in the mornings by birdsong instead of an alarm clock, then we are open for the here and now - and that is exactly when we encounter hygge.
Little things mean a lot: the new Danish lifestyle can be achieved with small items: blooming flowers lovingly arranged on the balcony, a bowl of fresh fruit on the garden table, the light of an oil lamp in the twilight.
Become aware of your senses. Smell the scent of freshly mown grass, glowing charcoal and spicy grilled sausages, listen to the croaking of the frogs in the nearby pond and to the laughter of your friends, feel sunrays tickling the tip of your nose.
Create hygge moments with weatherproof cushions and rugs for a cozy summer. Beanbags and floor cushions enhance the lounge atmosphere, and modern, wireless audio devices envelop us in soft sounds.
Comfort, harmony and tranquility: With hygge, it's not about big events, it's all about enjoying the little things in a relaxed atmosphere. We should all take time to make a little more space for hygge in our lives. Bring the Danish lifestyle into your home a create the perfect space for unique hygge moments.
(Photocredit: Tanja Marx, blog mxliving; Florian Ludwig, blog Tasteboykott; Silke Dröger, villa_sternzauberliebe)