Vinegar and oil dispenser - tasteful decoration for kitchen and dining room.
From the light vinaigrette for the mixed side salad to the hearty potato salad for the barbecue - hardly any dressing can do without vinegar and oil. Whether in combination with mustard, lime, salt and pepper or just like that - with these two ingredients you can effortlessly conjure up the most delicious sauces. But not only salad dressings, also meat dishes, stews, spreads and even desserts can be cleverly spiced up with the two classics. One thing is certain: no household should be without vinegar and oil. Stored in the high-quality vinegar and oil dispenser you refine not only the most diverse dishes, but also the optics of the kitchen or the dining room . Because stylishly placed on the design dining table or the kitchen shelf , the sets provide a harmonious ambience and serve as shapely home accessories. Thanks to practical pouring or atomizer attachments, vinegar and oil can be wonderfully portioned. Always ready to hand, you can refine your meals to your taste at any time - see for yourself!
1. Design
2. Material
3. Size
4. Vinegar and oil
5. Price
1. Design: The right vinegar and oil dispenser for your needs
Renowned manufacturers such as Eva Solo and Alessi produce vinegar and oil dispensers - from classic-simple to striking-original - in a wide variety of designs. However, they all have one thing in common: they replace the commercially available vinegar and oil bottles, which are often bulky and disrupt the uniform and elegant look of the interior with their imprints. Here you can find out what advantages the respective designs offer you and which model suits you best.
Vinegar and oil set: Classic containers with a spout that allows easy portioning and precisely ends the flow after use, are the most conventional way to stylishly bring vinegar and oil to the table . The shape of the dispensers varies from the flask to the carafe to the stalactite. The pouring attachment is not only functional, but also gives the models their individual look thanks to a variety of materials and shapes. Many vinegar and oil dispensers are part of an extensive dinner service series and can be beautifully combined with other pieces. To the noble Eva Solo carafe for vinegar and oil , for example, a matching carafe for drinks is available. Whether at a relaxed dinner with the family or at a birthday dinner in a large group - so you prove attention to detail and perfect your table decoration in no time. Two vinegar and oil dispensers on the dining table will create a cozy and at the same time elegant atmosphere in no time - this increases the feel-good factor.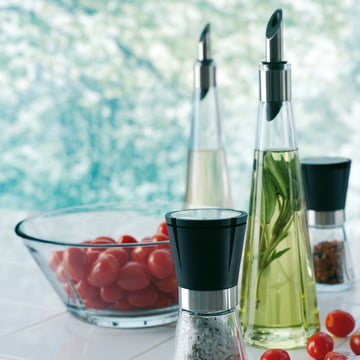 Dressing Shaker: Are you keen to experiment and try out new recipes? Then a dressing shaker is the right choice for you. Add vinegar, oil, lemon and herbs, shake and the delicious vinaigrette is ready. You are the chef. Simply add your favorite ingredients to the shaker and shake up your perfect dressing. You can then elegantly place the dressing dispenser on the table - so everyone can grab it at will.
Vinegar/Oil Atomizer: Use an atomizer to spray a fine "oil and vinegar mist". This allows you to distribute oil and vinegar evenly and avoid overdosing. Thanks to the filter system, you can also add fresh herbs to the oil, which then gives it its own refined flavor. This makes not only taste, but also visually quite something.
Vinegar and oil dispenser material: plastic, glass Co
Classic vinegar and oil dispensers made of glass look particularly high-quality and elegant. At the same time, they allow a clear view of the contents, so you can immediately see whether there is salad dressing, oil or vinegar in the container. The material blends discreetly into any interior. Models made of plastic have visually similar properties to glass, but are lighter and more resistant to breakage. Vinegar and oil sets made of stainless steel are modern, original and fit wonderfully with the interior in industrial design. The opaque material protects oil and vinegar from light and oxygen, so oxidation is avoided and the aroma is preserved for a long time. Made of matte black cast steel, the Aldo Bakker oil dispenser by Georg Jensen will become a sculptural highlight in your kitchen and dining room. The interesting shape is ideally suited to the consistency of oil and vinegar. Whether glass, plastic or steel, all vinegar and oil dispensers are easy to clean by hand with a little dishwashing liquid under warm water. Some models are even dishwasher safe - saving you even more time when cleaning. You can find more information about the material and care of your favorite on the respective product pages.
Size and capacity: vinegar and oil made to measure
Design dispensers for vinegar, oil and dressing come in a wide variety of sizes. Before buying, consider how high your vinegar and oil consumption is in general and to what extent the dispenser should be the focus in the kitchen or dining room. Small dispensers with a height of between 10 and 14 cm can be placed on the dining table in a particularly discreet and space-saving way. However, they have a relatively small capacity and need to be refilled more often. Medium-sized models with a height between 15 and 20 cm hold about 0.2 l of liquid. The larger containers can additionally hold fresh herb sprigs, chili peppers or the like. With a height of just under 30 cm and a capacity of 0.28 l, the Peter Zumthor oil and vinegar bottle from Officina Alessi is an imposing eye-catcher in the kitchen and dining area. The 25 cm high Eva Solo carafe even holds 0.5 l. Large vinegar-oil dispensers are especially suitable if you invite guests to dinner. The design pieces ensure that there is always enough dressing at the table. At the same time, they serve as an original decorative element, which can be complemented with accessories from the same series.
Vinegar and oil: interesting facts about the all-rounders in the household
Vinegar and oil are true multi-talents. Whether as a sauce creation for salads, for marinating various chicken dishes or to enhance fruity desserts - there are no limits to your imagination. And that doesn't just apply in the kitchen. Diluted with water, vinegar can be used as an environmentally friendly all-purpose cleaner throughout the house. Edible oils such as olive oil are ideal for caring for dry skin and hair, soothing earaches or removing stubborn stickers completely. All the more important that vinegar and oil are stored attractively and within easy reach in the home. To preserve the flavor of the products as long as possible, store the vinegar and oil dispensers in relatively dark and cool rooms, if possible, and protect them from direct light. If you are slow to use up vinegar and oil, a vinegar and oil bottle made of opaque stainless steel is recommended.
Price: vinegar, oil and dressing dispensers for every budget
Cheap dispensers for vinegar, oil and dressing you can already get between 15 and 25 euros, such as the Dressing Shaker from Rig-Tig by Stelton . In the middle price segment, between 30 and 70 euro, lie Design pieces of considerable manufacturers such as Eva Solo and Rosendahl . Particularly exclusive and original specimens can be found in the higher price range - so there is a suitable product for every budget.
Browse the design store now and discover the vinegar and oil dispenser that suits you and your needs!
Vinegar-oil dispenser in the design store - your advantages at a glance
Curated assortment with top design brands
High-quality vinegar and oil dispensers from well-known designers
Buy directly and easily online
Personal support from our customer service
Fair shipping costs
Secure payment thanks to SSL encryption
Shopping advice at Connox
You want to buy a vinegar and oil dispenser online, but need assistance? Feel free to contact our customer service at any time. We are here to help you with your purchase, give recommendations and can quickly clarify questions. Then let us conveniently deliver your desired item directly to your home.


2. &

3.

4.

5.