Article from the 2015-08-06, of Anja Beckmann
For many people, the most beautiful time of the year is starting in June. Looking outside lets our hearts beat faster: Trees and branches shine with a powerful green. Jeans and jackets are replaced by summer dresses, the garden becomes the favourite place. That's the reason why we invest a lot of time in it. Are you still searching for inspiration regarding garden decoration and garden design? Then you're definitely right in here! Let us show you how to make a charming place out of your harden.
It mustn't be difficult to design a garden. Only a few changes transform the boring landscape into an idyllic garden – a clean lawn is the basis, punctual highlights enable the right flair.
Small sitting corners – places to lean back
If you have a garden, you might also have a terrace. Have you thought about creating another comfortable sitting place outside of the terrace? Your garden surely has some unused spots, suitable for a small table and a fer chairs. These ones mustn't be big: The manufacturer Emu offers a practical and space-saving seat with the Ronda armchair. The Cambi table completes the sitting corner. For those of you who like it more natural, Skagerak is the right manufacturer. Each of the products of the Danish manufacturer is slightly rustic and spreads Nordic flair. Find the garden outdoor trends of 2015 in here.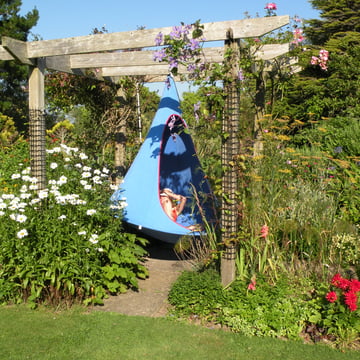 Small sitting corners ensure a small place in the sun all the time. If the sun isn't visible on the south terrace in the morning, you can always serve the breakfast on the other sunny side of the garden. It is suggestable to add weatherproof cushions to the chairs for more comfort. Maybe you'll find a suitable cushion by Weishäupl in here. Be inspired by the versatility of possibilities in our outdoor textiles category.
Tables and chairs mustn't be the only furniture for the garden – there is surely a spot for a hammock on the lawn. Cacoon offers innovative hammocks for several people.
Welcome your guests warmly with flowers on the entrance steps
Are there steps between the garden and the garden-door? If there is enough space, place some planters and flowerpots on both sides, with colourful flowers inside of them. That's how cold steps become a flowery gate into your small paradise – a hearty welcome for you and all of your visitors. The planters mustn't have the same colours, shapes and sizes. Play with the flowers and the pots and create your individual flowers steps that way. We already presented some pretty flowerpots in our blog recently.
A vegetable patch for the little hunger in between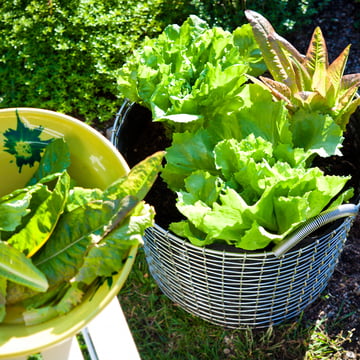 Pick some strawberries from your garden or a tomato from the shrub and taste it immediately. A small vegetable patch is luxurious. Hardly anything is tastier than a fresh carrot. Have you ever tasted such a carrot? It tastes very different than those available in the supermarket. You won't need to plough up your garden for a little vegetable patch. Plant small seeds, salad and vegetable plants in planters and organise them in groups in a sunny niche of your garden. The Korbo-baskets are made for that with their according planting bags.
Decorate with accessories and create some highlights that way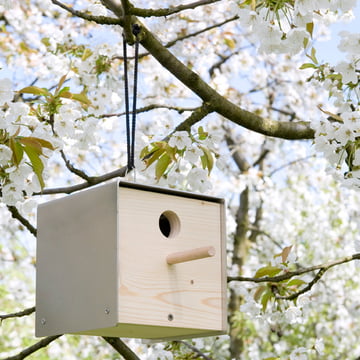 There are many small accessories to set some small accents in your garden with. Cazador del Sol concentrated on something very special: The small colourful sun catchers transform invisible light into visible light – Also at cloudy days. The fluorescent Cazador del Sol transforms the light's energy and shines on its own. Completely environmentally friendly and energy saving, without electricity or other helping tools. Light supports comfortable ambience in general terms. Small lanterns, like the Luzie oil lamp from Less'n'more or the Sun Jar by Suck UK make the place moody – especially in the twilight. Sit in the garden with a glass of wine in the evening and enjoy the idyllic atmosphere. Do you have an Edison the Petit by Fatboy? Then take it outside at mild summer evenings – it is possible thanks to the batteries.
Stylish and also useful products offer more highlights to your garden, when they are placed in the right corner.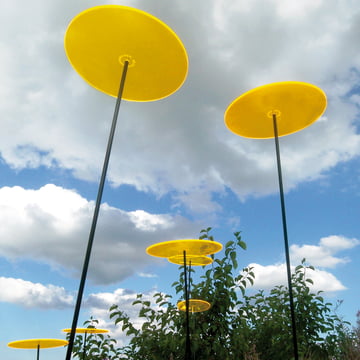 Wildlife World developed modern food and nesting boxes – not only for birds, but also for other useful animals like bees and insects. A pretty accessory for the garden and a place to be for the animals of the forest. For those of you who heat with wood, there is a clever and appealing helping tool by wodtke: the woodwall. Bye bye unorganised wooden logs. Wood can be organised systematically inside of the woodwall, which has been honoured with the Interior Innovation Award 2012. A cubic frame made of black steel keeps the wooden logs together. The glass rain gauge by Eva Solo is another eye-catcher. A stainless steel tube supports the stainless steel and aluminium container, which can simply be stuck into the ground.
Use sun-intense places with a sun terrace
Add maritime flair to your garden! A sun terrace is perfectly made of this. Wooden boards on a sunny spot of the garden will make up the basis of it. The right lounger, a sunshade and accessories like a pretty serving trolley with cold drinks complete your place in the sun. And if you want to protect your garden from curious glimpses of the neighbourhood, there are plants or weatherproof Paravents available.
Maybe some of these ideas are suitable for your garden. We would be happy, if!

Garden in our shop
Click the button to enter our Home Design Shop.
View now!