Article from the 2016-01-04, of Anja Beckmann
It's getting warmer, the days are getting longer and the first sunrays are starting to dance on our skin. Spring is here! The sun brings with it the chance to shake off the cobwebs: We want to clean out, rearrange and renew! If you want to give your rooms a new look with little effort, we've put together a few ideas to let the sun into your home.
Look carefully at the room you've decided to refresh: What do you want to keep? Which accessories or decorations feel wintery and should be put in the loft for the next few months? And what have you just had enough of? Immediately remove anything that you don't want in your new room. You'll already have more space and more room for fresh ideas.
1. Use Colour to Make the Room Fresher
Colour has the power to completely change the feel of our home. You don't have to paint the whole room. Often, just painting one wall is enough to give the room a new look. This means you're not only saving paint and time, but it's also much easier: You will only have to move the furniture away from that one wall before covering it to paint. Now is the time of year to say goodby to earth tones and warm colours. The hues that were cosy in autumn and winter can quickly feel oppressive in spring, and can make the room look smaller. Soft blue and fresh pastel tones are great right now. The cold tones will make your room look fresh and bright.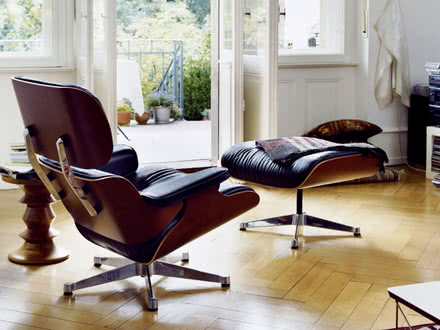 Some of the furniture and decorations have already been taken away. Do the things you have left harmonise with each other and with the new wall colour? Anything that doesn't fit with your new colour combination should be removed. Red accessories, for example, don't harmonise well with soft blue wall paint.
2. Emphasise New Features and Change the Scenery
For those of you who don't want to change the whole room, it is possible to simply emphasise new features. Look at your room: Determine which piece of furniture is giving the room its feel. In the living room it's often the sofa or a big reading chair that create a special kind of mood, and the bed is of course the main player in the bedroom. Which are the dominant pieces of furniture in your room?Swap one or another of them for something different – new furniture will change the whole room. If the room is big enough, you could try simply moving things around. The table has always been in front of the window? Then leave the window free when spring begins. Light will pour into the room and the outside world is more visible. Rearranging a room will also rearrange its focus.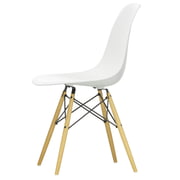 Furniture in our shop
Click the button to enter our Home Design Shop.
View now!
3. Increase the Feeling of Homeliness with Textiles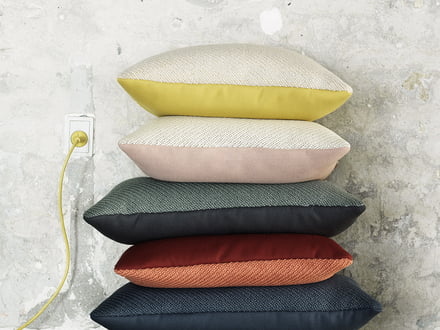 If painting the room is too much work or if new furniture is too expensive, you will find unexpected possibilities with home textiles.A big new carpet, some different pillowcases or airy curtains will change a room noticeably. The darker season of the year demand heavy curtains in order to keep glimpses of neighbours away. Bright, half-transparent curtains will make the atmosphere much friendlier. Chair cushions have a similar effect. Home textiles aren't as expensive as furniture and they are able to make a big change without big effort.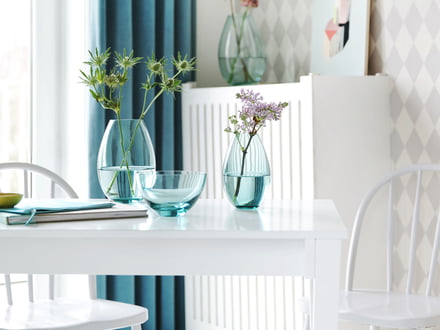 4. Decorate the Room with Accessories
The Christmas decorations left a long time ago, but the new year still doesn't want to move in yet? Introduce clear lines with your home accessories. Too many colours will disturbing the whole image, but style mixtures will make your room charming and personal. Decide on one colour in the beginning. Blue is on trend for this summer, but its brothers are also fresh, like turquoise, stormy blue and pastel blue. Set accents with poppy colours and opaque colours will complete the ambience.
Try materials that aren't on your decoration repertoire yet. Combine them cleverly. Concrete is becoming more and more popular. The massive material gives raw accents to the rooms. Combine it with glass for a modern, stylish decoration which is able to upgrade different furnishing styles. The Willmann vase by Menu is an example of such successful combinations. Be brave and keep to one line while decorating.
5. Flowers Bring the Feeling of Spring
Fresh flowers on the table will erase the last piece of winter. For those of you who don't like cut flowers, there are many different flowerpots available. Flowerpots with automatic water supply will care for your flowers – if you can't. urbanature moreover offers numerous exceptional solutions for green plants to be arranged decoratively in little rooms.
You want to know what was trendy on this year's international design fairs? Read our recapitulation "Spring novelties 2015" and be inspired.