Danish design: Audo
Audo Copenhagen is the result of a collaborative spirit. Born from the merger of MENU, The Audo and by Lassen, Copenhagen reflects Audo Copenhagen reflects both a century of Danish design tradition and a modern, global perspective that continues to expand and evolve. The furniture, lighting, and home furnishing accessories are informed by purposeful details, quality materials, and human needs, and go hand-in-hand with Audo's commitment to creating strong, lasting connections and partnerships.
The aesthetic philosophy of Audo Copenhagen is described as soft minimalism, characterized by clean lines, tranquility, subtle strength, earth tones and materials sourced from nature and crafted with the utmost respect. Soft minimalism promotes creative contemplation and harmony. It adapts to different architectural styles and is suitable for both residential and commercial use. It is timeless, which means that the pieces of Audo can be used for decades to come, and can be taken into new homes and new, creative stages of life.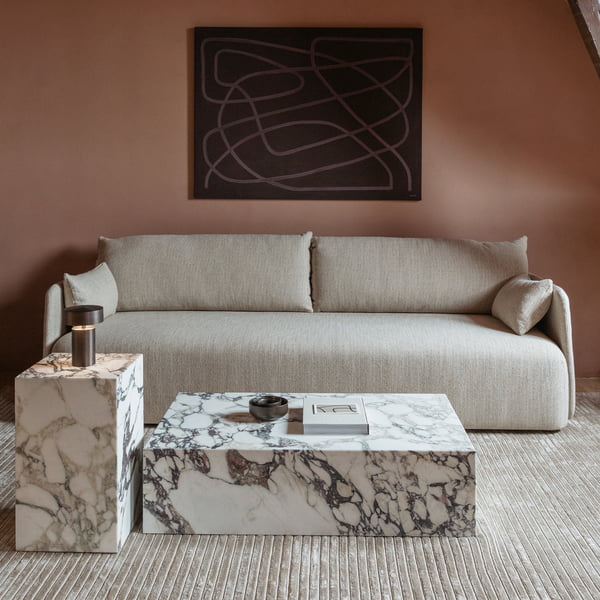 Collaborations with talent from around the world
Audo Collaborates with some of the most exciting and creative people in the world of architecture and design to produce high quality design with a distinct Scandinavian look.
Durable beauty for everyday life
Every Audo -design serves a function with deep form and feeling, allowing it to create a sense of community wherever we are in the world. Audo's quest to create a sense of community adds value to the objects and spaces we inhabit.
Wherever possible, Audo works Audo with local artisans to preserve traditional skills and create modern design.
Audo's name reflects its close association with the Audo House, a unique concept in Copenhagen that opened in 2019 and combines co-working and event spaces, a café, restaurant and concept store, and an exclusive apartment into a single, community-building universe. Today, the showroom and headquarters of Audo Copenhagen are located in this repurposed historic building. The creative destination reflects the collaborative spirit of Audo Copenhagen and is a center for strong ideas and a sense of community. It redefines how we use design and space, and how we ultimately connect with each other.
Website by Audo