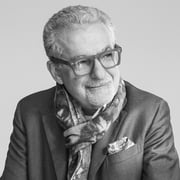 The first restaurant designer
Adam D. Tihany (born 1948) is an interior designer living in New York. He founded his own studio and is considered the founder of the title "Restaurant Designer". His company has designed hotels and restaurants in many prestigious hotels around the world. Tihany was named one of the largest interior designers by the New York Times in 2001.
Born in Transylvania, Adam D. Tihany spent his childhood in Jerusalem and later studied architecture at the Politecnico di Milano in Italy. He then founded his own multidisciplinary design studio in New York in 1978. He became famous above all for the furnishing and design of renowned hotels and restaurants.
Website by Adam Tihany