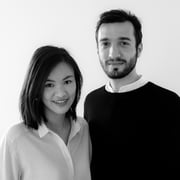 Balance between Form and Function
The design studio AC/AL was founded by Amandine Chhor and Aïssa Logerot in Paris in 2013. Both graduated from the ENSCI Les Ateliers and worked for various international manufacturers and companies for several years. For example, Amandine Chhor worked for the luxury manufacturer of Hermès for four years and Aïssa Logerot worked as a freelance designer for renowned design studios and architects.
AC/AL focus upon the production of furniture and design objects for everyday use. Their inspiration derive from eventful journeys and their daily lives and they combine these with innovative and unusual materials. Very important for Amandine Chhor and Aïssa Logerot is the balance between form and function of design object and the benefit of the subject in everyday life. Refined details and a modern production play an equally important role.
Website by Amandine Chhor & Aïssa Logerot