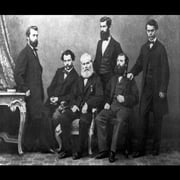 The Thonet Brothers - a Family Empire
Michael Jr., August, Josef and Jakob, the sons of Michael Thonet - inventor of the bentwood technique - were handed over the family business in 1853. From this point on, the company was called "Gebrüder Thonet" (eng.The Thonet Brother). Even after the death of their father in 1871, the brothers continued to run the company together.
In 1918, Thonet AG was founded and, shortly afterwards, they merged with the merchant Leopold Pilzer from Hungary and his Mundus company. Thonet was the largest furniture manufacturer in the world, with factories in many European countries that outshone competition from America and Russia.
After the war in 1945, the international Thonet empire broke apart. The foreign offices went their own ways. The production by Georg Thonet, the great grandson of Michael Thonet, was resumed in the formerly smallest factory, in Hessian Frankenberg, and continues to be successfully operated to this day. Since 2011, Peter Thonet runs Thonet GmbH as a direct descendant of the founder.
Website by Thonet Brothers