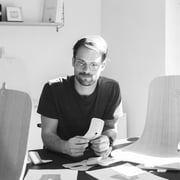 Optimal solutions for specific problems
Office KN is a Finnish design studio in the heart of Helsinki, founded by Kasper Nyman. The design objects of the studio always result from finding an optimal solution for a certain problem, which is why they convince with their timeless, simple and functional design.
Kasper Nyman was born in the north of Denmark in 1986 and has always had the goal of being creative in his profession. Nyman describes his working process as an act of constant exploration of various handicrafts, always following his curiosity. He works in Motion Graphics Art Direction with a global mind-set and the goal of creating something extraordinary in an ordinary world.
Website by Office KN