Article from the 2015-09-30, of Anja Beckmann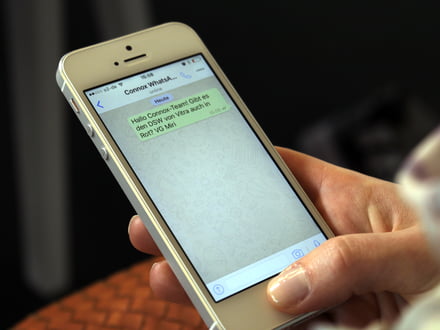 To get rid of a short question, quickly send a photo, informally communicate - things that are already usual for our daily lives, is usable for customer communications as well now: Messaging apps. And that is not only considered by Zalando. We have started a new channel at Connox for our customer service. Our service agents can be reached with a short message to the mobile number +49 (0)175 2666260.
Mobile first & service with conversation atmosphere
What do we expect? Offering a completed shopping and a personal exchange to our customers. The number of customers that shop with smartphones and tablets grows. With our new service channel we want to avoid the need of our customers, of switching between different devices and media banks. With just a few clicks, they can write their concern from now on directly on the smartphone. Just quick questions often don't require formal E-Mails and are answered with one sentence. The manner of communication via messaging app - a short, quick exchange - encourages discussions. We can immediately respond further questions of you.
Photo snap and easily send
An advantage that is even greater than the telephone service: It is possible to take photos directly with the smartphone and send them easily via WhatsApp. That will make returning easier, we think. But there's another case: What if you see a beautiful piece of furniture somewhere and want to know if we can find and order it for you. You take a picture, send us the image and we will send you the link to the product - at - best. The simple transmission of photos facilitates communication for both sides.
Short questions allow a correspondingly rapid response. You will receive them within one hour. Don't be surprised: The colleagues from the service team will answer questions from Monday to Friday from 8 to 18 o'clock. On the weekend you must wait a little with WhatsApp. And don't worry: Also via telephone and email, we'll still gladly answer your questions as well!
And this is how you can reach us:
Via WhatsApp : 0175 2666260
By phone: + 49 (0) 511 300341-0
E-Mail: service@connox.de
The introduction of WhatsApp is just one of many measures with which we want to make the mobile browsing and shopping easier. More projects will follow this year. You may be curious!
We would like to know your opinion: What do you think of WhatsApp as service channel? Will you take advantage of the offer? Write us at mitmachen@connox.de .