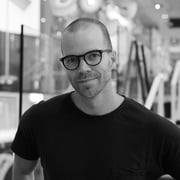 Matt Carr was born in the Canadian Ottawa. His passion for design came when he was an apprentice at Douglas Cardinal Architects in his hometown.
Later, Carr visited the "Humber College School of Industrial Design" in Toronto. Already during his studies, the Canadian reaped some benefits for his academic skills. He soon started to work for Umbra.
Small, subtle details, references to different styles and the re-interpretation of traditional objects are some trademarks of Matt Carr. The influences of unknown cultures and the connection of natural materials with the most modern technologies inspire the designer, remaining faithful to Umbra until today.
Website by Matt Carr